The Westerly Condos – Uptown Opulence
The Westerly condos in NW Portland sit proudly on the corner NW 24th Ave and NW Everett Street. The view from this building is simply spectacular. There is nothing else like this in the city. The Westerly boasts an amazing location, high end finishes, large penthouse units, unobstructed views and a concierge on site. This is truly a luxury condo building and is right in the heart of Portland's beloved Alphabet district (it is called the Alphabet district because the street names are in alphabetical order), also called Nob Hill and Uptown.

Let's start with the fundamentals of the building; there are 104 units and 14 stories in this NW Portland beauty. The Westerly is a registered LEED building and is considered sustainable and healthier than conventionally built structures. The building is home to condos, flats, town houses and pent houses that range from 660 sq ft up to 4100 sq ft in size. There are spacious terraces and amazing city views. They really did not cut any corners in this gorgeous building.

Currently there are 2 condos one the market and 1 pending sale. The actively listed condos are on average $604 per square foot and have been on the market around 12 days. In the last 90 days 1 condo has sold in the Westerly for $665,000 with an average of $597 per square foot. This condo was on the market for 54 days. 

The interiors of the units are unique and far from your cookie cutter condo project. They boast stainless steel appliances, slab granite and stone counter tops, wool carpet and hardwood flooring and more. Each unit has its own character and view points of the mountains, city or West Hills. I love the idea that the floor plans are similar, but the finishes and flavor unique to each unit. For example in one unit you will see dark granite and light cabinets and in another the exact opposite. The light hardwoods are set on a diagonal, a delightful feature, and helps expand the space visually. Lastly are the amazing floor to ceiling windows that seem to have a different view from every space you stand in. It really is incredible to be in these homes, the feeling of freedom and space is overwhelming.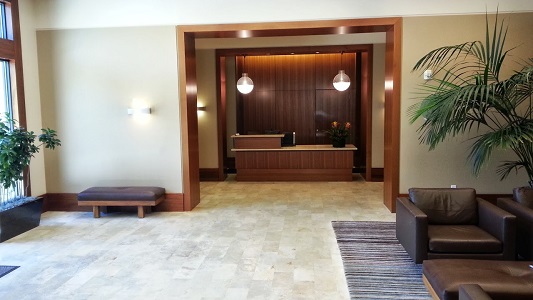 The building fits nicely into the landscape of NW Portland's Alphabet district. It is surrounded by shops, restaurants and close to Washington Park. NW 23rd is a block away and is home to many local shops and other high end retailers, the list includes: Pottery Barn, Free People, Restoration Hardware, Smith and Hawkins, Twist, Urban Outfitters and so many more. Some of Portland's best know restaurants are also in this NW district. There is Papa Hydans, known for their deserts, Wildwood and my favorite for brunch, Meriwethers on NW Vaughn.

Overall the Westerly is a great mix of old and new. You get all the modern amenities and comforts of a new green building and the charm of the Nob Hill neighborhood. The mix of new buildings and old gorgeous Victorians is charming and unexpected. The tiny streets leading up to the Westerly are lined with beautiful painted ladies (I believe this term came from the Victorians in San Francisco) that seem to speak to you as you pass by. The life and culture of this neighborhood are thriving and change with the seasons. The leaves change colors, Holiday lights go up on trees and in retailers windows and new tasteful condo projects like the Westerly are developed and built in this vibrant Portland neighborhood.
Written by Amanda Folkestad and Brian Porter
Send a comment or question to Brian