Portland Duplex
URGENT. DUPLEX LISTINGS NEEDED. If you have ever thought about selling your duplex, please give me a call right away 503-810-2219. I have a huge list of buyers who are ready to buy duplexes NOW.
Duplexes in Portland are a hot commodity at this time.  Inventory of duplexes is low and demand remains high.  People have their own reasons for purchasing duplexes, but many people are looking for a way to invest in real estate without a huge investment.  If you buy a duplex as an owner occupant, you may be eligible for a FHA loan.  You may be able to put down as little as 3.5%.  If you end up renting the other side to a friend or tenant, you will be able to "share" the burden of a mortgage payment, but the long term benefits of property ownership will reside with the owner... you.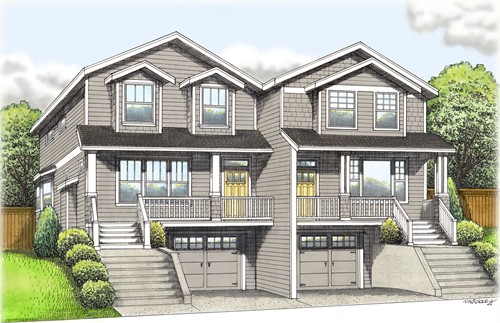 Generally speaking, Portland Duplexes offer more bang for the buck than single family homes.  You will normally have a lower gross rent multiplier on a duplex than on a single family home, so duplexes are also a great way for investors to become landlords. A Gross Rent Multiplier is the Sale Price of the Duplex divided by the annual rent.  For Example, a duplex that sells for $360,000 and it receives $30,000 in annual rent would have a gross rent multiplier of 12.
Cash flow is usually better on duplexes than on single family homes.  Another benefit of duplexes is that if one tenant leaves, you still have an income from the other side.
Often times owners of multi-family property do not like to list their properties because they do not want for their tenants to know that the property may be for sale.  I know of a few duplexes that the seller would be happy to sell, but they are not in the multiple listing service.  If you have been looking for just the right duplex, but you can't find it.  Let me know, I may know of a property that will meet your needs.
Thanks,
Search Results
3 Listings found with the following criteria:
Property type like any: MULTI
Foreclosure status: Basic, Short Sale, Bank Owned
City: Portland
Units: 2
Address:

8820 SW CAPITOL HWY Portland, OR 97219

Price:

$475,000

Total Sqft:

0

MLS#:

15244375

Built:

1945

# of Units:

2

County:

Multnomah

Nhood/Bldg:

Multnomah Village

Taxe/yr:

$6,481.73

Scools:

/

Lot Size:

10,000 to 14,999 SqFt

Acres:

Courtesy:

NBS MultiFamily Mgmt, LLC

Zone:

R7

---

View Details

Remarks

This property offers a 2,300 SF three bay toy shed. This is ideal for someone looking for extra storage. Boats, bikes, cars, jet skis and other recreational toys will fit. RV sewer hook up on-site.
Address:

3919 SW CULLEN BLVD Portland, OR 97221

Price:

$425,000

Total Sqft:

0

MLS#:

15028098

Built:

1927

# of Units:

2

County:

Multnomah

Nhood/Bldg:

Taxe/yr:

$6,639.67

Scools:

Hayhurst / Wilson

Lot Size:

20,000 SqFt to .99 Acres

Acres:

Courtesy:

John L. Scott Market Center

Zone:

R7

---

View Details

Remarks

Two homes on one lot... lots of potential... demo and rebuild...keep as rental... divide and remodel...Offers subject to interior inspection.... DO NOT DISTURB TENANTS..
Address:

15409 SE STARK ST Portland, OR 97233

Price:

$249,900

Total Sqft:

0

MLS#:

15246159

Built:

1959

# of Units:

2

County:

Multnomah

Nhood/Bldg:

Taxe/yr:

$4,119.52

Scools:

Glenfair / Reynolds

Lot Size:

15,000 to 19,999 SqFt

Acres:

Courtesy:

Keller Williams Realty Profes.

Zone:

R1

---

View Details

Remarks

Great Investment Opportunity. Duplex now available for sale on SE Stark and 154th. 1,218 sqft in each unit, 2 bedrooms, 1 bath. Recently remodeled with new floors, paint, and light fixtures. Convenient location to Bus, Max, Grocery, Shopping, and Highway. Large fenced in yard with mature trees.
3 Listings found with the following criteria:
Property type like any: MULTI
Foreclosure status: Basic, Short Sale, Bank Owned
City: Portland
Units: 2
 For information about: Portland Luxury Homes
6 Comments