New Listings of Portland Condos
40 Listings found with the following criteria:
Order

created_at DESC

Listed in the past

1 week

Property type and category like any

CONDO

City

Portland
Narrow your search
40 Listings found with the following criteria:
Order

created_at DESC

Listed in the past

1 week

Property type and category like any

CONDO

City

Portland
Narrow your search
---
Portland Condos For Sale
This page is dedicated New Portland Condo Listings. It highlights the listings that have come on the market or experienced changes in the past 7 days. When you are ready to purchase a Portland Condo, please call a Realtor with strong experience and in-depth knowledge of the condos in Portland. Brian Porter 503-810-2219.  Please scroll down to see the newest condo listings in Portland.
Living in a condo in Portland offers a unique urban lifestyle that is highly desirable. There are many condos in NW and SW Portland that are close to excellent dining, local shops, entertainment and more. NW and SW Portland condos are very accessible to Portland's transportation, both the streetcar and the MAX. This allows condo owners to go car free and bike, walk or use transport to get around. NW and SW Portland are home to some great coffee shops, parks, farmers markets, grocery stores and more. Living in a condo in NW or SW Portland allows you to utilize all the city has to offer while being right in the middle of it all.
The Close-In Eastside of Portland also has a lot of new condos.  Builders are building tiny homes as condos and townhouses condos as well.  The Eastside condos are often close to the cool spots on Alberta, Mississippi and Williams.  Here is an example of a new 6 unit condo building on NE Grand.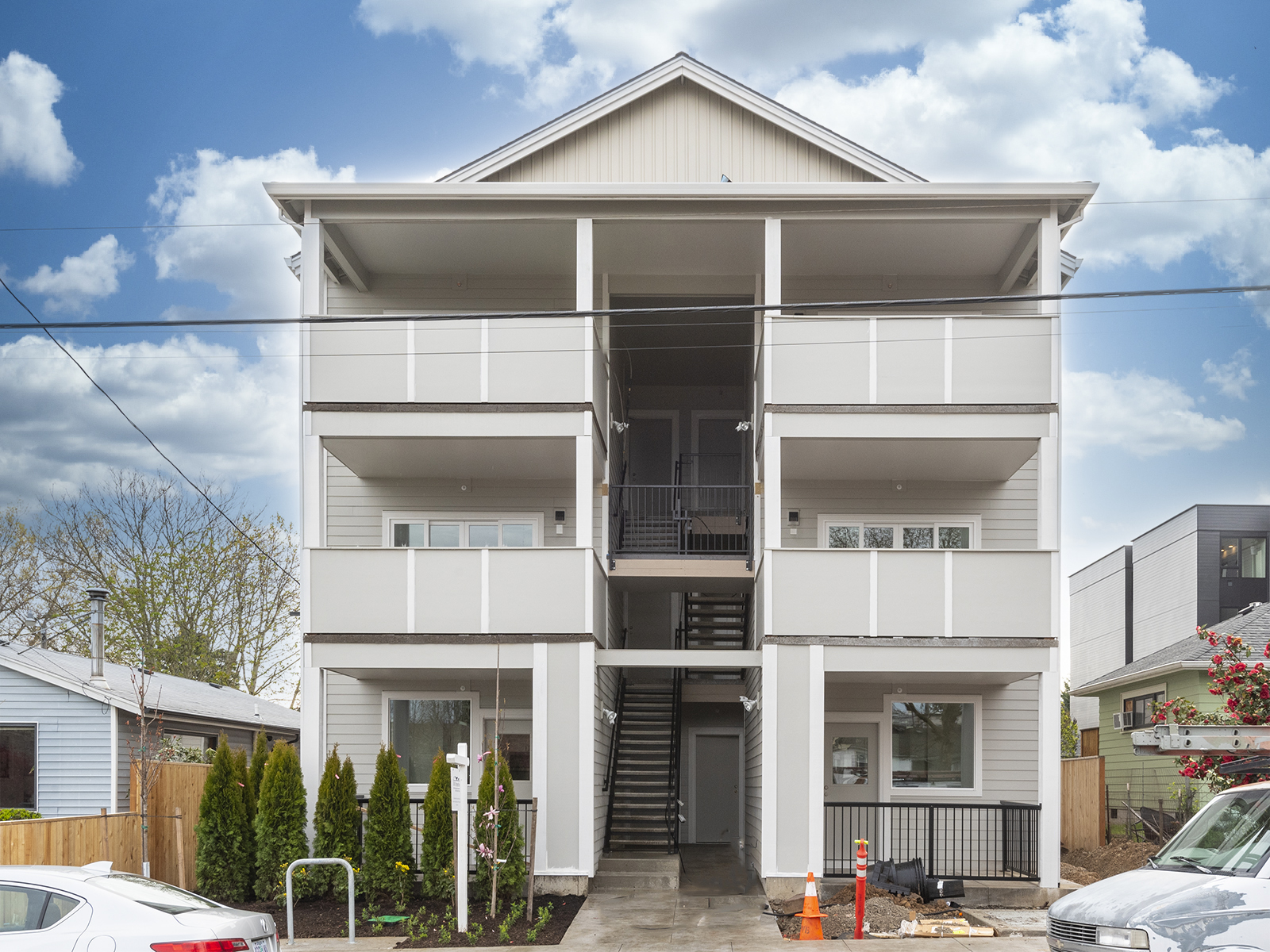 Condo living is different than living in a single family home in many ways. Generally there is little to no exterior maintenance required by the home owner, usually this is all taken care of by the home owners association and covered by some of the monthly HOA dues. No yard work, gardening or painting required when it comes to condo living! Condo living is great for busy people who travel a lot. Most of the time, the condo association pays for water, sewer and garbage removal as well.
Here is a video of one of the most interesting condos in NW Portland.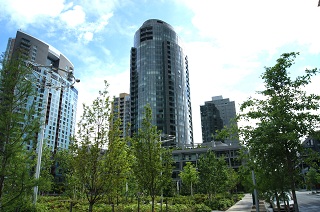 The photo above is the John Ross Condominiums. I used to live in this building, so I know it quite well. Call Brian Porter for condo information. I am extremely familiar with just about all of the Portland Condos that are for sale, and I have been selling Portland homes and condos since 2003. Please give me a call 503-810-2219
 "Your home is your unit" by guest blogger Wade Nkrumah
Get used to it: You live in a unit. For you, the owner, your condominium is home. For others – many a single-family homeowner – a condo seems anything but.
It's shared walls. It's an apartment. It's a unit.
Even condo-friendly professionals, such as developers, mortgage brokers and real estate agents – those who often make a portion of their living off condos – refer to condominiums as units.
Such disrespect of this not-of-the-American Dream housing option comes with the territory.
Still, condominium living is a popular defining signature of urban lifestyle in Portland, in particular, and, increasingly, in the 'burbs.
So, what's the lure and why buy a condominium instead of a house?
Maybe it's the sales price – more affordable.
Maybe it's the view or a higher proximity off the street that affords more privacy than a house.
Maybe it's being in the middle of downtown.
Or maybe it's lack of a yard – no grass to mow in spring and summer, no leaves to rake in fall, no gutters to clean in winter.
Whatever your reasons, legions of others share at least some of them.
Why? Because living small is in.
It's not as much about leaving a smaller imprint on Earth by reducing your carbon footprint as it is about simplifying your life. Bigger isn't always nor necessarily better.
Going smaller means less: cleaning, clutter, things. And more: appreciating life's little things and simple ways.
Equally appealing and important, housing options for going smaller – lofts and townhouses – increased as condominium numbers grew.
Plus, in the past few decades, evolving style and substance have enhanced life in condominiums, lofts and townhouses.
Higher ceilings and rooms with outside-the-box angles make condos feel less cave- and more house-like.
Finishes and touches (such as gas fireplaces) long associated only with houses now often are standard.
Dramatic improvement in soundproofing makes sharing walls less of an apartment-like shared experience.
Condominiums and their loft and townhouse kin dot the cityscape in numbers few could have imagined at the dawn of last decade, even. But at some point, someone dared to think: if builders built them, the masses would come.
And yes, builders built and buyers have come, one unit at a time.