Portland Duplex
URGENT. DUPLEX LISTINGS NEEDED. If you have ever thought about selling your duplex, please give me a call right away 503-810-2219. I have a huge list of buyers who are ready to buy duplexes NOW.
We are Portland Duplex Specialists and have lots of experience with both listing and selling multi family properties. When you are ready to buy or sell a duplex please give Brian a call, 503-810-2219.
Please scroll down to see dozens of Portland Duplexes that are available.
Duplexes in Portland are a hot commodity at this time.  Inventory of duplexes is low and demand remains high.  People have their own reasons for purchasing duplexes, but many people are looking for a way to invest in real estate without a huge investment.  If you buy a duplex as an owner occupant, you may be eligible for a FHA loan.  You may be able to put down as little as 3.5%.  If you end up renting the other side to a friend or tenant, you will be able to "share" the burden of a mortgage payment, but the long term benefits of property ownership will reside with the owner... you.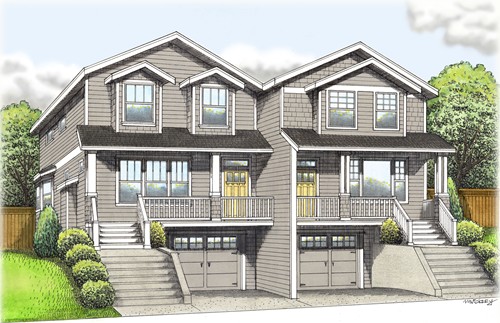 Generally speaking, Portland Duplexes offer more bang for the buck than single family homes.  You will normally have a lower gross rent multiplier on a duplex than on a single family home, so duplexes are also a great way for investors to become landlords. A Gross Rent Multiplier is the Sale Price of the Duplex divided by the annual rent.  For Example, a duplex that sells for $360,000 and it receives $30,000 in annual rent would have a gross rent multiplier of 12.
Cash flow is usually better on duplexes than on single family homes.  Another benefit of duplexes is that if one tenant leaves, you still have an income from the other side.
Often times owners of multi-family property do not like to list their properties because they do not want for their tenants to know that the property may be for sale.  I know of a few duplexes that the seller would be happy to sell, but they are not in the multiple listing service.  If you have been looking for just the right duplex, but you can't find it.  Let me know, I may know of a property that will meet your needs.
In the last 30 days 17 duplexes have sold in Portland ranging from $300,000 up to $835,000 with an average market time of 29 days.
We specialize in Duplex and multi family properties, please give Brian a call for more information. 503-810-2219
Thanks,
Search Results
3 Listings found with the following criteria:
Order: created_at DESC
Property type and category like any: MULTI
City: Portland
Units: 2
Address:

8543 SW JAMIESON RD Portland, OR 97225

Price:

$1,290,000

Total Sqft:

0

MLS#:

19000031

Built:

1995

# of Units:

2

County:

Washington

Nhood/Bldg:

RALEIGH HILLS

Taxe/yr:

$10,407.56

Schools:

Raleigh Hills / Beaverton

Lot Size:

15,000 to 19,999 SqFt

Courtesy:

Hasson Company

Status:

Active

---

View Details

Remarks

Expansive 5, 820 sqft, light-filled home offers generous space for both lavish entertaining & intimate gatherings. This property boasts beautiful oak floors, large kitchen island, well-manicured garden, a sophisticated master suite + 3 bedrooms upstairs, 6 guest suites and separate living quarters on the main floor. Only minutes away from Portland Golf Club, Oregon Episcopal School, Jesuit High School, parks and more. 2 ADU's Possible.
Address:

7536 N CHATHAM AVE Portland, OR 97217

Price:

$739,900

Total Sqft:

0

MLS#:

19241566

Built:

1999

# of Units:

2

County:

Multnomah

Taxe/yr:

$5,520.68

Schools:

Chief Joseph / Jefferson

Lot Size:

3,000 to 4,999 SqFt

Courtesy:

Coldwell Banker Bain

Zone:

R5

Status:

Active

---

View Details

Remarks

INCOME PROPERTY conveniently located in Historic District. Potential DUPLEX with separate entrances. Shared utilities (can be separated) for A & B Units. New Roof and rain gutters, New thermal Pane windows, extra space for Bedrooms ea, side with 2.5 and 2 Baths respectively. $5000 gross mo. rent (est). Great 1031 Exchange, rental or buyer offset expense by renting one unit. Bring all offers - call broker for showing instructions.
Address:

5109 SE 46TH AVE Portland, OR 97206

Price:

$624,900

Total Sqft:

0

MLS#:

19178191

Built:

1952

# of Units:

2

County:

Multnomah

Nhood/Bldg:

Woodstock

Taxe/yr:

$7,921.75

Schools:

Woodstock / Cleveland

Lot Size:

5,000 to 6,999 SqFt

Courtesy:

RE/MAX Equity Group

Zone:

R5

Status:

Active

---

View Details

Remarks

Fabulous Woodstock residential neighborhood. Close to bus on Steele St. Near Woodstock restaurants, shops, groceries, bank, library. Reed College is 1.2 mi. Home has double kitchen, 8 BRs, 4baths, 2 bonus rooms, living, dining, entry, partially finished basement. 2nd floor remodel/addition w permits. Potential Adult Care Home or Group Home with separate care-givers quarters. Currently extended family home. Garage + 3-car parking pad.
3 Listings found with the following criteria:
Order: created_at DESC
Property type and category like any: MULTI
City: Portland
Units: 2
 For information about: Portland Luxury Homes
12 Comments