Portland Homes For Sale
Portland Homes For Sale

Portland homes are beautiful and unique, and different neighborhoods offer different home styles.  The close-in neighborhoods have homes that were built before 1930.  Craftsman, Tudor and Bungalows dominate this time frame.  As you move farther away from downtown, there are neighborhoods that grew up in the 50s and 60s.  Of course ranch style homes are common in this era.  The suburbs started to take off in the 1970s and and 1980s, so towns like Tualatin, Tigard and Gresham have a lot of houses from this time frame. Split entry and tri-level homes were the rage at this time. Since the 1990s we have seen growth in farther out areas like Hillsboro on the west side and Clackamas and Happy Valley on the east side.  Contemporary and contemporary craftsman homes have been in style since the 90s.
Address:

5241 NE 15TH AVE Portland, OR 97211

Price:

$699,000

Sqft:

2833

MLS#:

19107039

Built:

2016

Beds:

4

Baths:

3.1

County:

Multnomah

Taxe/yr:

$10,402.85

Schools:

Vernon / Jefferson

Courtesy:

JMA Properties LLC

Zone:

R2.5

Status:

Pending

---

View Details

Remarks

Better than new 4 BR, 3 and 1/2 BA townhouse condo in the Alberta Arts District; 2 blocks to the coffee shops and restaurants. The home features hardwood floors, gas fireplace, chef's kitchen with quartz counter tops, master suite with a huge walk in closet, master bath has soaking tub and a walk in shower. Large Trex Deck and a hot tub.The guest suite on the ground floor is furnished, Airbnb-ready, and has a City of Portland Permit. [Home Energy Score = 7. HES Report at https://rpt.greenbuildingregistry.com/hes/OR10167199]
There are currently over 3,000 Portland homes for sale in Portland proper.  If you add the suburbs than number goes above 6,000 so there is literally something for everyone.
There are a lot of exciting things happening in our current market in Portland. Prices are up, sales are up, inventory is down and buyers are abundant. We have some new construction listings that have recently hit the market and some that are coming soon. Please contact us if you would like to preview any of these upcoming listings. We would love to show them to you.  Feel free to call me if you have any questions about Portland Homes 503-810-2219.  Thanks, Brian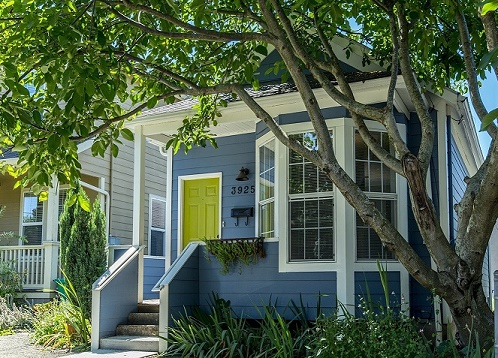 Portland's real estate market right now starting to level out from the previous seller's market we have been experiencing for the last 5+ years. Currently there are 270 homes for sale in inner NE Portland (near our office in the zip codes 97211,97212,97213) with an average of $270 per square foot. The homes on the market start at $239,500 and go up to $2,998,000 with an average size of 2451 square feet and market time of 54 days. There are also 193 homes pending sale in NE Portland at this time with an average of $266 per square foot.
There have been 128 sales in the last month in inner NE Portland (97211,97212,97213 zip codes). Homes ranged in value from $179,000 up to $1,505,000 with an average of $269 per square foot. On average the homes that sold in the last 30 days were on the market for 24 days and were approx. 2392 square feet in size.
This page is primarily dedicated to single family homes, and we have other pages that are dedicated to condos, townhouses and duplexes in Portland.  Several neighborhoods in Portland have almost exclusively single family homes, like Eastmoreland and Alameda, but the city of Portland is trying to increase density (more people and homes per city block).  They have a plan to allow more multifamily homes and ADUs in all of the city.  
.

Of course, every neighborhood and area is different. We try to stay on top of what is happening in the Portland Metro area and are happy to share that information with you. Please call or email us anytime to discuss what is happening in your neighborhood.
Please use the "narrow your search" option below to modify your search criteria and find exactly what you are looking for.  If you would like for me to prepare a custom search for you, just let me know.  My phone number is 503-810-2219.  I have sold hundreds of Portland Homes over the past 10 years, and I am happy to use my experience to help you in your search and negotiations.  Don't be bashful in your search for Portland Homes For Sale.  
Search Results
3236 Listings found with the following criteria:
Order: created_at DESC
County: Multnomah, Clackamas, Washington
City: Portland
Address:

5241 NE 15TH AVE Portland, OR 97211

Price:

$699,000

Sqft:

2833

MLS#:

19107039

Built:

2016

Beds:

4

Baths:

3.1

County:

Multnomah

Taxe/yr:

$10,402.85

Schools:

Vernon / Jefferson

Courtesy:

JMA Properties LLC

Zone:

R2.5

Status:

Pending

---

View Details

Remarks

Better than new 4 BR, 3 and 1/2 BA townhouse condo in the Alberta Arts District; 2 blocks to the coffee shops and restaurants. The home features hardwood floors, gas fireplace, chef's kitchen with quartz counter tops, master suite with a huge walk in closet, master bath has soaking tub and a walk in shower. Large Trex Deck and a hot tub.The guest suite on the ground floor is furnished, Airbnb-ready, and has a City of Portland Permit. [Home Energy Score = 7. HES Report at https://rpt.greenbuildingregistry.com/hes/OR10167199]