The Ambassador Condos
  The Ambassador Condos – Elegant Living in the Heart of Downtown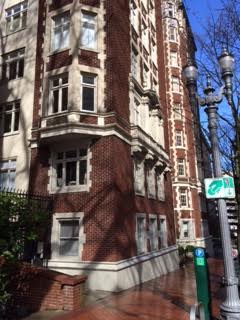 The Ambassador condos and lofts are a classic H shaped building in the heart of downtown Portland's Cultural District. There are 9 floors and 45 condos in this building. The Ambassador was built in 1922 and was converted to condos in 1978. The building is on the National Record of Historic Buildings and has been well preserved. Each unit has its own flavor and style while keeping with the era of architecture. This building feels very French and the condos feel more like flats you would find in European cities with lots of original woodwork, wood windows and glass door knobs.
Currently there is 1 condo for sale in the Ambassador listed at $399,000. It is a 1220 square foot unit, making the price per square foot $327. In the past 12 months 7 condos have sold in the Ambassador ranging from $225,000 up to $550,000 with an average of $418 per square foot. 
 The Ambassador condos are conveniently located on the corner of SW 6th and SW Madison Street. The building scores a 98 on walkscore.com and is considered a walkers paradise. Close by businesses include grocery stores, banks, restaurants, bars and more. The Max green line is a short walk away from the front door of the condos allowing you where you need to go.
The beauty of the Ambassador is obvious when you walk by and continues as you enter the building. The lobby has a traditional flare and fits well with the exterior of the Ambassador. Each floor has a landing outside of the elevator with large windows and different décor on each floor. As you enter the building off the street there is a courtyard that leads to the front doors and doorbell system. It is still original to the building and looks like the old push buttons you would see with knob and tube wiring. This building really is quite charming. The lobby itself is cozy and classic with beautiful rugs and light fixtures. It feels as if you are walking into a grand old hotel. The elevator is also a throw back to a gone by era, there is a plush down filled cushion sitting atop a wicker setee and it is very slow, but again charming. I haven't been to this building in quite some time, so it may be updated by now.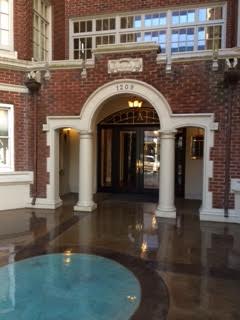 The Ambassador has one of the best rooftop decks in SW Portland that is accessible to all the condo owners. The views from the deck are breathtaking and the deck itself is furnished and well maintained by the HOA. The building includes parking off street and underground storage units as well. The adjacent building is the University Club, a long standing exclusive club with lots of monthly events and wonderful dining.
Living in the Ambassador is really what living in SW Portland is all about. Steps from public transportation and in the heart of Portland's bustling downtown everything is accessible with ease. No car is necessary to dwell here with comfort and the opportunity to live in a classic building that hasn't been messed with is a rare.
Written by Amanda Folkestad and Brian Porter
Search Results
1 Listing found with the following criteria:
Legal description like: Ambassador
Property type and category like any: CONDO
Address:

1209 SW 6TH AVE 404 Portland, OR 97204

Price:

$479,900

Sqft:

1164

MLS#:

20692779

Built:

1923

Beds:

2

Baths:

1.0

County:

Multnomah

Nhood/Bldg:

DOWNTOWN/CULTURAL DISTRICT

Taxe/yr:

$7,417.79

Schools:

Chapman / Lincoln

Courtesy:

Urban Nest Realty

Zone:

CX

Status:

Active

---

View Details

Remarks

Rare front-facing upper-level 2-bedroom unit in the historic Ambassador Condominium. Old World charm meets new world convenience. Luxurious and light filled, with high-ceilings, immense living & dining room with city views, lovely hardwood floors & brand new paint throughout. Make the cultural district home: mere steps to the Portland Art Museum, Portland'5 Performing Arts Complex, the gorgeous Park Blocks and famous farmers' markets. Includes access to private parking lot. No rental cap!
1 Listing found with the following criteria:
Legal description like: Ambassador
Property type and category like any: CONDO