Chown Pella Lofts
 Chown Pella Lofts - Industrial Chic in the Pearl - 416 NW 13th Ave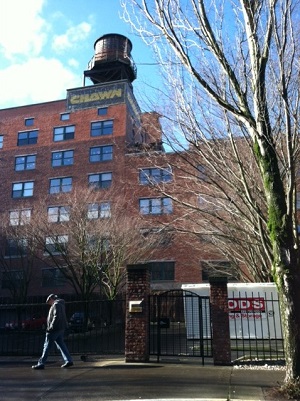 The Chown Pella lofts and condos are located on NW 13th Avenue between NW Glisan and Flanders in the heart of Portland's Pearl district. The building was converted to lofts in 1996 and there are 68 units that range in size from 740 up to 1850 square feet. The history of the building is rich and original features were preserved while renovating this building into lofts.

The Oregon Transfer Company moved into the building on the corner of NW 13th Avenue and NW Glisan in 1910. About a year later they added a new six story building and the two operated as one. Over the years many famous retailers housed their goods in these buildings like Coca Cola and Wrigley. In 1979 The Oregon Transfer Company outgrew the space and that is when Frank and Elenor Chown moved in their window and door division of the Chown Company. The Chown name is still proudly on the building today and has continued to endure over the years.

The renovation of this building is stunning. The units themselves are all very unique and the building is actually both the buildings mentioned above converted into one. Some of the units have the original exposed brick walls that add warmth and charm to the lofts. Massive timber was used throughout this building and has been renovated to fit all of the units, some is original and some is painted white. Most of the larger units are two stories with living and kitchen space on the main floor and bedrooms up. These are true lofts with tall ceilings and spacious open great rooms. There is a shared rooftop terrace and parking spaces as well. Each loft really does have its own flavor with all the layouts being unique in order to utilize all the space.

There are currently 5 lofts for sale in the Chown Pella building ranging from $349,900 up to $1,049,000 with an average of $540 per square foot. In the past 90 days 1 condo has sold in the Chown Pella for $365,000 and price per square foot of $447. This condo was on the market for 170 days and was 817 square feet in size.

The location of this building could not be better; it is in the heart of Portland's popular Pearl district. The streetcar is right around the corner and all of the great Pearl restaurants are within walking distance of The Chown Pella. The walk and bike score is 98 and the transit score is 91.
Written by Amanda Folkestad and Brian Porter
Search Results
0 Listings found with the following criteria:
Order: created_at DESC
Zipcode(s): 97209
Legal description like: Chown
0 Listings found with the following criteria:
Order: created_at DESC
Zipcode(s): 97209
Legal description like: Chown
Send a comment or question to Brian