Hoyt Commons Condos
 Hoyt Commons – Charming Condos in the Pearl -618 NW 12th Ave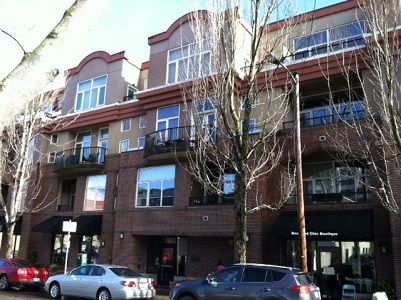 Hoyt Commons was one of the first newly constructed condo buildings in the heart of Portland's Pearl district. Hoyt Commons was built in 1995 and stands 4 stories tall. There are a total of 48 units ranging in size from 628 square feet up to 1160 sq feet. This building was built in a style and with materials that make it seem like it has been there forever. Walking past the building you will notice the brick exterior and ground floor retail. The top two floors are more modern with a stucco exterior and the fourth floor condos even have skylights.

Hoyt Commons is special in that it is not a newer building that towers over the original warehouses that call the Pearl district home. It is 4 stories tall and each unit has a private balcony and lofty 10 foot ceilings. Hoyt Commons also has deeded parking that is covered. There is a courtyard style driveway to access the garages under the units. The ground level is dedicated to retail space and houses some of the Pearl districts finest retailers.

Hoyt Commons is home to Giorgio's restaurant that opened in 2000 and has been a Pearl district landmark since. If you are in the mood for some great Italian food this is the place to go. Living in the Hoyt Commons allows you the convenience of the condo lifestyle without the hustle and bustle of a larger high-rise building. Hoyt Commons feels cozy and comfortable tucked into the heart of the Pearl district and everything you need is at your doorstep. The streetcar runs by and it has a walk score of 97 – Hoyt Commons is considered a walkers paradise.

There are currently no condos for sale in the Hoyt Commons building. One condo has sold in the last 18 months at Hoyt Commons for $310,000 and $473 per square foot. This condo was on the market for 17 days and was 656 square feet in size.
Hoyt Commons is desired both for it's location and charm. There is a good mix of units in the building making it easier for some to call this place home. 
Written by Amanda Folkestad and Brian Porter
Search Results
4 Listings found with the following criteria:
Order: created_at DESC
Legal description like: hoyt commons
City: Portland
4 Listings found with the following criteria:
Order: created_at DESC
Legal description like: hoyt commons
City: Portland
Send a comment or question to Brian