Marshall Wells Condos
 Marshall Wells – Historic Living on NW Lovejoy - 1420 NW Lovejoy St
Living in the Marshall Wells lofts is a unique Portland experience. They are located in the Pearl district in NW Portland and are steeped in rich NW history. The Pearl District was once a warehouse district and the Marshall Wells building is no stranger to housing goods. It was originally the warehouse for the Marshall Wells Hardware Company that was established in 1893. They built the first four stories of the building in 1910 and later added on to make it the 7 story beauty it is today. From the outside the building is a warm khaki color with lots of windows and the original water tower sits on the roof. For being a warehouse it is quite charming today, industrial and rustic.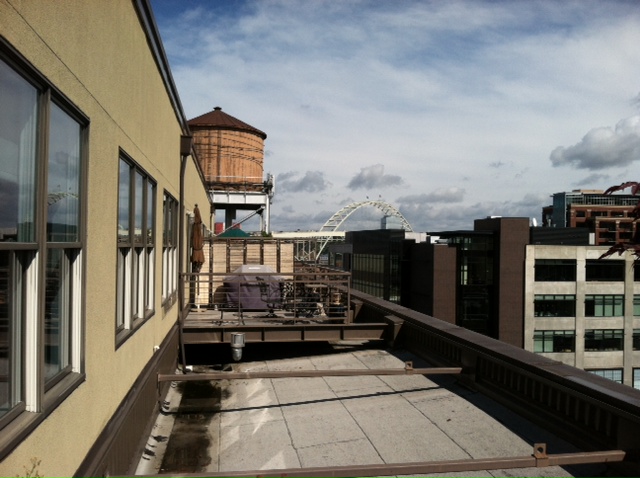 Don't let the outside fool you, the simple facade and neutral colors do not really prepare you for what's inside. Once you step inside the lobby is modern with warm wood and concrete combined to make a surprising entrance to this once cold warehouse. The massive original beams are everywhere in this building and add so much character to all the spaces. The lofts range from small studios up to 2 bedrooms and 2 bathrooms and each unit has these large beautiful beams. Another stunning feature is the inside atrium, it houses plants, benches and a fountain. You would never know from the street that this cool urban garden was in the middle of this large building. There are 164 lofts in total and 7 stories in this Historic building.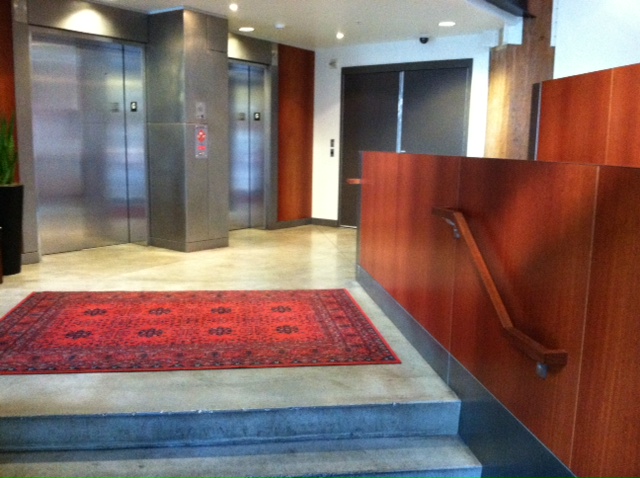 Re-construction began on the lofts in 2001 and they sold out shortly after completion. It is refreshing to see that many original features in the lofts were spared and re-used were possible. The great thing about this building is that the lofts are modern yet warm and still historic with the large open spaces, original woodwork and newer reproduction windows that look as if they have always been there.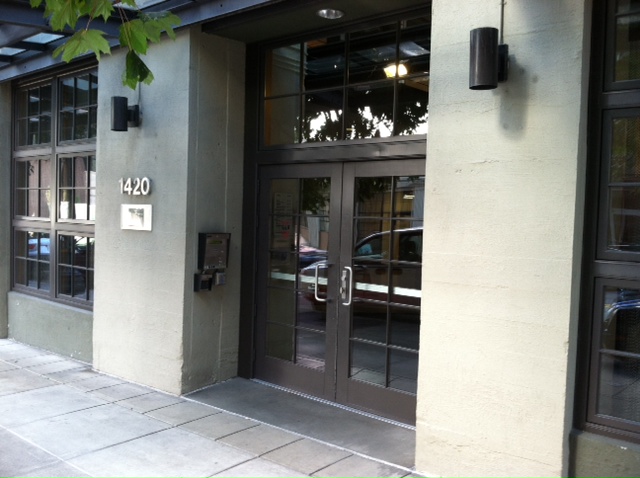 Currently there is 1 loft actively for sale in Marshall Wells listed at $545,000 and $458 per square foot. There are also 3 pending sale with an average of $477 per square foot. Five lofts have sold in the last 6 months at Marshall Wells ranging from $308,500 up to $625,000 with an average of $477 per square foot. These lofts were on the market for on average 56 days and were 994 square feet in size on average.
I had the pleasure of viewing the penthouse unit on the 7th floor and was really impressed. The unit faces the Southwest corner of the building and has great outdoor space. The interior is gorgeous with a state of the art kitchen, large vintage looking windows and marble lined bathrooms. It felt warm and airy at the same time. All of the woodwork is original with large beams and wood cladded ceilings. The windows are a new reproduction of what was originally in the building and this unit has some stunning city views. You can see the Willamette and also the West Hills, this is a unique feature.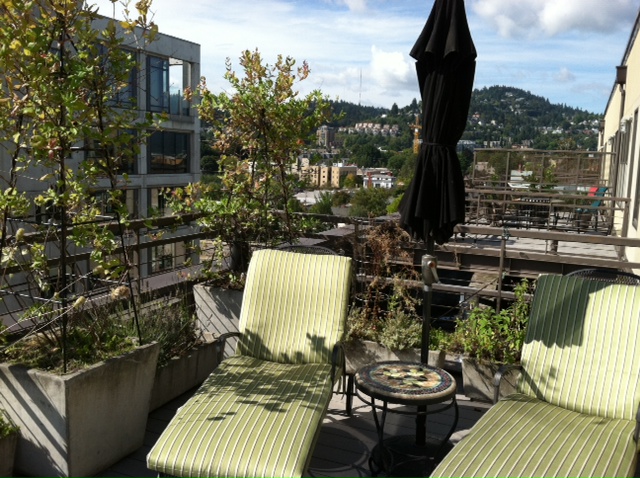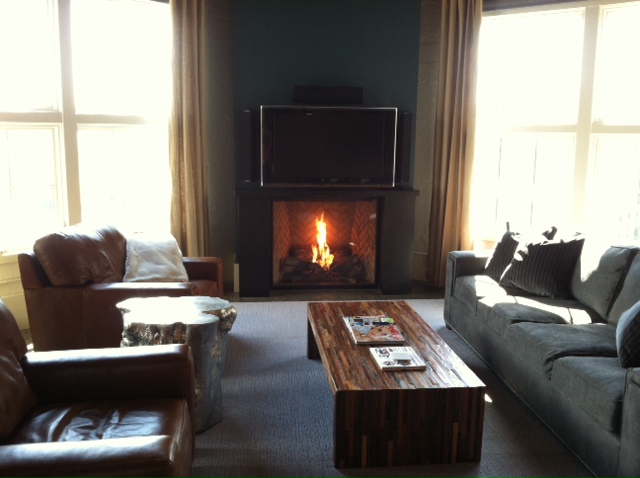 The building itself is not the only note worthy factor about this property. The area where it is located is one of the most coveted zip codes in all of Portland. There are endless amounts of restaurants, shops, salons and coffee houses all within walking distance. The Portland Streetcar stops right in front of the main entrance every 12 minutes and connects you to Uptown /Alphabet District. Right next door is a fun sports bar called On Deck, check out the website for more information. There is a Safeway grocery store about a block away and Bridgeport Brewery is also close.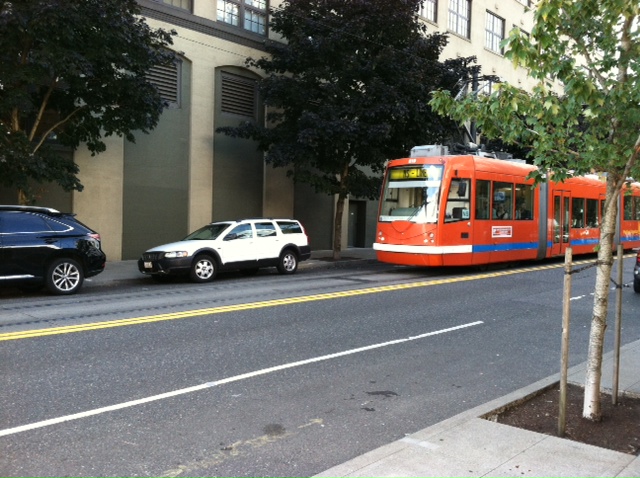 Overall living in the Marshall Wells lofts is a lifestyle choice; a choice to live in a vibrant neighborhood where everything is located right outside your doorstep. A choice to be a part of a community that appreciates history, art and architecture and mostly a choice to be a part of a building that embodies what being a Portlander is all about.
Written by Amanda Folkestad and Brian Porter
Search Results
3 Listings found with the following criteria:
Zipcode(s): 97209
Legal description like: Marshall
Address:

1420 NW LOVEJOY ST 719 Portland, OR 97209

Price:

$814,900

Sqft:

1971

MLS#:

19637058

Built:

1910

Beds:

2

Baths:

2.0

County:

Multnomah

Nhood/Bldg:

Pearl District-Marshall Wells

Taxe/yr:

$10,094.38

Schools:

Chapman / Lincoln

Courtesy:

Think Real Estate

Status:

Active

---

View Details

Remarks

Prime Pearl location on Streetcar. Historic Marshall Wells loft Penthouse with private deck and expansive views. Updates inc. gourmet kitchen with gas range, custom pantry & built-ins, updated bathrooms & lots of storage. A piece of history remains with original old growth exposed beams & ceilings. The second level has spacious rooms, walk in custom closets and a fantastic deck for outdoor dining, container gardening, or city viewing.
Address:

1420 NW LOVEJOY ST 508 Portland, OR 97209

Price:

$599,000

Sqft:

1545

MLS#:

19144054

Built:

1910

Beds:

2

Baths:

2.0

County:

Multnomah

Nhood/Bldg:

THE MARSHALL WELLS LOFTS

Taxe/yr:

$8,189.35

Schools:

Chapman / Lincoln

Courtesy:

Windermere Realty Trust

Status:

Active

---

View Details

Remarks

Incredible, 5th floor, 1545 sq. ft. SE corner unit with city views. Does not face the freeway. Open, loft style with two bedroom spaces, two full BA, office area, 18 foot ceilings, cork floors, lots of built-ins and incredible light from two walls of windows. 1 deeded parking space in secure parking area. Large storage space is adjacent to parking space. On the streetcar line, walk to grocery store, restaurants, shops and much more.
Address:

1420 NW LOVEJOY ST 619 Portland, OR 97209

Price:

$359,000

Sqft:

782

MLS#:

19595820

Built:

1910

Beds:

1

Baths:

1.0

County:

Multnomah

Nhood/Bldg:

PEARL DISTRICT/ MARSHALL WELLS

Taxe/yr:

$4,734.34

Schools:

Chapman / Lincoln

Courtesy:

Windermere Realty Trust

Status:

Active

---

View Details

Remarks

Bright, sunny unit with knockout view of West Hills by day & night. Renovated historical, pre-war building with all the original charm: huge wood windows; soft warm cork floors, high wood ceilings, exposed beams. Modern amenities: security system & earthquake retrofitted; stainless steel kitchen; huge, custom closet; very quiet, triple windows, large storage unit. On Streetcar line, close to all the Pearl has to offer!
3 Listings found with the following criteria:
Zipcode(s): 97209
Legal description like: Marshall