North Park Lofts
North Park Lofts-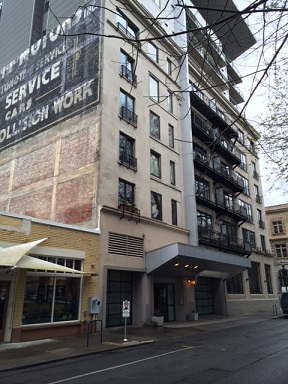 The North Park Lofts are located at 300 NW 8th Ave in the Pearl District right next to central downtown Portland.  This building was built in 1909, but it is very modern and features some amazing condos.  The penthouse features Mt. Hood and city views.  
The building itself was a 6 story warehouse with 10 foot ceilings and massive pillars. In 1999 the renovation began that included seismic upgrading and adding 4 floors. There is a community deck on the 10th floor that is available to the residents.  The building also has secured covered parking and storage units. The ground floor commercial space is home to Remedy Wine Bar and of course the North Park Lofts are located right on the North Park Blocks. The North Park Blocks consist of 3.11 acres of park that include, art, play structures and basketball courts. 
The North Park Lofts are true lofts with exposed ducting, lofty ceilings and open floorplans. 
Currently there are 3 lofts for sale in the North Park Lofts ranging from $349,900 up to $497,900 with an average of $475 per square foot. The lofts for sale are on average 855 square feet and have been on the market for around 23 days. One loft has sold here in the past 60 days for $410,000 or $422 per square foot. This loft was 971 square feet and sold in 59 days. 
Written by Amanda Folkestad and Brian Porter
Search Results
5 Listings found with the following criteria:
Order: created_at DESC
Zipcode(s): 97209
Legal description like: North Park Lofts
5 Listings found with the following criteria:
Order: created_at DESC
Zipcode(s): 97209
Legal description like: North Park Lofts
Send a comment or question to Brian