The Edge Lofts
 The Edge Condos - Modern Living in the Pearl - 1410 NW Kearney St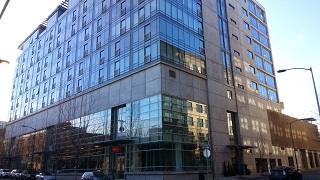 The Edge condos and lofts were completed in June of 2004 and are located at NW 14th and NW Kearney in Portland's Pearl District. There are 123 lofts in the building with 11 floors. Floors 1-4 are commercial and parking and floors 5-11 are residential. The building has everything you would expect from a new loft project with large windows, open floor plans, European kitchens and city views. The Edge condos are currently under litigation due to leaky valves, read more about this here, this issue should be resolved by the end of 2014.
The Edge condos location is stellar in the heart of the Pearl District. The Edge sits right on top of the REI store in NW Portland. The streetcar is close to the building as well and makes all of West Portland easily accessible by public transportation. There is ample parking available at the Edge Lofts, but really no need for a car as everything is very close. Walking and biking is part of the culture in the Pearl neighborhood and made very easy with the tree lined streets, bike lanes and ample bike parking.
The condos themselves are true lofts with open, spacious rooms. They were not built with walls that permanently separate the bedrooms from the living space, although there are some with modern partitions if a more private bedroom is needed. Bathrooms have privacy, but the rest of the rooms are open with a great room feel. Living in the Edge is truly what living in a modern loft is all about, great views of the city, open floor plans and modern amenities.
Currently there are 2 condos on the market in the Edge Lofts ranging from $350,000 up to $469,000 with an average of $418 per square foot. In the past 90 days 1 condo has sold at the Edge Lofts for $320,000 with an average of $378 per square foot. This condo was on the market for 285 days and was 847 square feet in size.
Written by Amanda Folkestad and Brian Porter
Search Results
4 Listings found with the following criteria:
Order: created_at DESC
Zipcode(s): 97209
Legal description like: Edge Lofts
4 Listings found with the following criteria:
Order: created_at DESC
Zipcode(s): 97209
Legal description like: Edge Lofts
Send a comment or question to Brian