The Gregory Condos
  The Gregory Condos in Portland – Located in the Heart of the Pearl - 420 NW 11th Avenue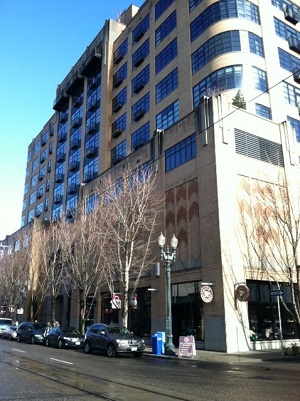 The Gregory is one of the earlier condo projects in the Pearl district and is located in the heart of this sought after district on NW 11th Avenue between NW Glisan and NW Flanders. It was first occupied in 2000 and continues to house condos and retailers alike. The bottom floor is home to many local restaurants, shops and the Portland Streetcar runs on both NW 10th and NW 11th.

The Gregory Condos houses 133 units that range in size from 742 square feet to 3334 square feet. They all have access to the amazing 5th floor terrace that is an entertainers dream. One great feature about the Gregory is that it sits 12 stories tall and towers over the other buildings that surround it, this gives the condos here unobstructed views of our beautiful city. Each unit comes with a covered parking spot and some come with storage units as well. These are true loft style condos with open floor plans, large windows and unique bedroom spaces.

The exterior of the Gregory demands attention in this lovely location next to the streetcar in the middle of the Pearl district. It is adorned with black iron work on the balconies and has an art nouveau feel with its fluid lines and movement. The corners have large rounded windows and the entrance a beautiful artistic pass-through. Even the hardware on the front doors is chic; the details in this building are fantastic. The lobby is also very grand and feels like you have stepped back in time, making it seem like style is more important than function, although this building is very functional. Walking into the units is surprising as they are very modern, which is a large contrast from the building's exterior and lobby. This is something I love about this building; the lofts themselves are open with hard lines and surfaces while the exterior is soft and fluid.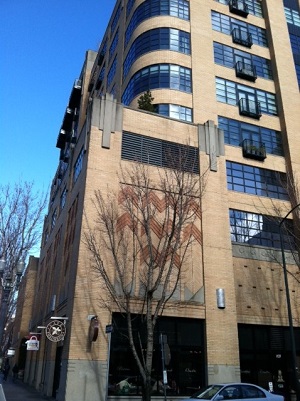 Currently there are 4 condos for sale in the Gregory ranging from $435,000 up to $1,159,900 with and average of $549 per square foot. These condos have been on the market around 79 days on average and are on average 912 square feet in size. In the past 90 days one condo has sold in the Gregory for $895,000 and $617 per square foot. This condo was 1451 square feet in size and was on the market for only 5 days. The Gregory remains a popular building in the heart of the Pearl District. 

The advantages of living in this building are plenty. The building itself is gorgeous, the views are awesome and the location is desirable. The building is home to many local businesses such as: Pizza Schmizza – they have an excellent array of pies and salads, Verdun Chocolates- they have delicious imported chocolates from Lebanon and many others. The Streetcar also flanks the building on both sides and is a great way to access downtown Portland and Uptown Portland.
Written by Amanda Folkestad and Brian Porter
Search Results
4 Listings found with the following criteria:
Zipcode(s): 97209
Legal description like: gregory
4 Listings found with the following criteria:
Zipcode(s): 97209
Legal description like: gregory