Waterfront Pearl Condos
 Water Front Pearl Condos and Lofts- 1310 NW Naito Parkway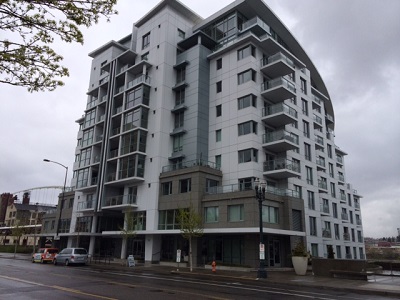 The Waterfront Pearl Condos and Lofts were built in 2007 and sit right on the Waterfront in Portland's popular Pearl District. The compound is comprised of 2 towering building that stand 10 stories tall and are home to 197 units. The Waterfront Pearl Condos are very modern and have all the amenities you would expect from an upscale high-rise condominium building.

The Waterfront Pearl has a 24 hour concierge, gym and sauna, modern landscaping and dramatic water features. There is a massive fountain in between the 2 buildings that creates a nice visual separation as well as soothing water sounds. The only negative to having 2 buildings side by side is that the interior condos only have a view of the other building and not the city or river. The Waterfront Pearl is stunning and proud with its glass and concrete exterior. It is hard to miss and is surrounded by the Willamette River and parks.

The interiors of these condos are as modern as the outside, but surprisingly feel very cozy and livable. They feature open floor plans with private bedrooms. Most of the units have hardwood flooring throughout the main living spaces, slab quartz and marble countertops, dressing room style walk in closets and central air and heating. The condos also have large glass windows, some with awesome views of the river and city, others as we mentioned above have views of the other Waterfront Pearl building and water feature.

Waterfront Pearl has an excellent location on NW Natio Parkway and NW 9th Ave in Portland's Pearl District. Public Transportation is abundant in this neighborhood as well as shopping and dining. Everything you need is within walking or biking distance which makes this convenient city living.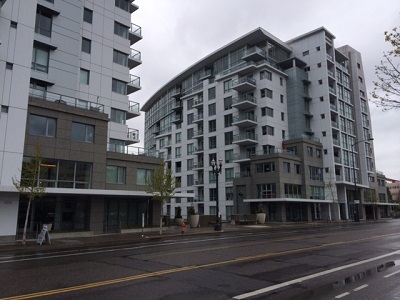 This building was completed in 2008 and sold about 30-40 of the condos at that time. The condo market collapsed shortly after and the rest of the remaining inventory was made into rentals. 
Currently there are 8 condos for sale at the Waterfront Pearl ranging from $498,900 up to $1,119,000 with an average of $546 per square foot. In the past 90 days 2 condos have sold in the Waterfront Pearl ranging from $760,000 up to $2,250,000 with an average market time of 59 days and average price per square foot of $644.
We recently toured a penthouse at Waterfront Pearl with a client and were impressed. The layout was good and the river views outstanding. The condo felt open and spacious with a nice sized deck. 

Written by Amanda Folkestad and Brian Porter
Search Results
15 Listings found with the following criteria:
Zipcode(s): 97209
Legal description like: waterfront pearl
15 Listings found with the following criteria:
Zipcode(s): 97209
Legal description like: waterfront pearl
Send a comment or question to Brian