Park Place Tower Condominiums
 Park Place Tower Condominiums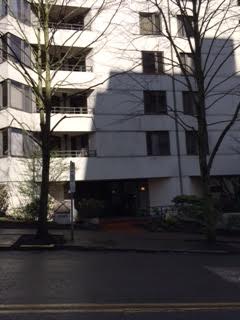 The Park Place Tower Condos were built in 1983 and stand 10 stories tall on SW Park Place between SW Vista and SW Clair Streets. The address of for the Park Place Tower Condos is 2245 SW Park Place. The Park Place Tower Condos have recently been through a massive renovation including new windows, patio doors, decks, roofs and more. Basically the entire exterior of this building was replaced, so it's like new! 
Currently there are 4 condos on the market ranging from $210,800 up to $835,000 with an average of $329/ square foot. In the last 90 days 2 condos have sold in the Park Place Tower building for $378 per square foot. These 2 condos were on average 1013 square feet and ranged in price from $365,000 up to $400,000.
The Park Place Tower Condos have some great features. The location is stellar, they are close to public transit in beautiful SW Portland. The condos themselves are true condos, not lofts, with cozy rooms and gorgeous views of the city and Mt. Hood. Some of the units have built-ins and feel very charming. This building offers parking and storage as well. Living in the Park Place Towers provides a true Portland experience with a close proximity to everything!!
Written by Amanda Folkestad and Brian Porter
Search Results
1 Listing found with the following criteria:
Legal description like: Park Place Tower
Property type and category like any: CONDO
Address:

2245 SW PARK PL 2C Portland, OR 97205

Price:

$329,000

Sqft:

1013

MLS#:

19036325

Built:

1983

Beds:

2

Baths:

2.0

County:

Multnomah

Nhood/Bldg:

GOOSE HOLLOW

Taxe/yr:

$5,694.95

Schools:

Chapman / Lincoln

Courtesy:

Cascade Sothebys International Realty

Zone:

RH

Status:

Active

---

View Details

Remarks

A perfect location! Just one block to NW 23rd and Uptown Shopping, near the MAC, Washington Park, restaurants and shopping! First class building remodel has been completed at Park Place Tower. Beautiful new windows, exterior siding and roof. Enjoy an open floor plan, spacious living area, two bedrooms and secure gated parking. Enjoy prime Portland City living in a peaceful neighborhood setting at an affordable price.
1 Listing found with the following criteria:
Legal description like: Park Place Tower
Property type and category like any: CONDO