One Level Living
August 19, 2014 10:20
 One Level Living in Portland
Living in a one level home is dream for many potential home owners these days. One level living has it benefits and drawbacks. This article will outline both, with some local market information weaved in.

I grew up living in one level homes, mostly 1950's-1960's ranches. So, naturally as an adult with the freedom of choice I choose to live in a 3 level 1960's cape cod. Something drastically different in layout, but similar in feel with the era, such as the fireplaces, hardwoods and windows are similar to that of the homes I grew up in. When we first bought our house it was a fixer and we poured everything we had into the renovation. The 3 levels didn't bother us at the time, this was before we had kids, and having 2 large bedrooms upstairs was a big selling point for us. Now, as a mother to a 15 month old I am starting to understand the draw to the one level. Having bedrooms upstairs is great for nap time, I am able to work on the main floor and in the basement without disturbing our sleeping baby, and this is a major plus. The downside to having the bedrooms upstairs is simply the staircase itself. Navigating the stairs in a 1960's capecod with a toddler and other necessary items that need to be hauled from one floor to the other can be quite tricky. Thus, the allure to the sprawling one level ranch was born.

We have been looking at one level homes on the market and our next home will for sure be a one level ranch with a basement, preferably a daylight basement. One level homes are prominent in some areas of Portland, but not others. With the urban growth boundary it makes sense that one levels are not something that are easy to find close in the city. Inner NE and SE do have some true one levels, but they are difficult to come by. The further out you get the more prevalent the one level ranches are. Most of the one level homes I have seen in Portland are ranches. There are a few one level bungalows with funky attic spaces and basements, but for this article I am focusing on the ranch style home. True one level living, some with bonus basements. I say a bonus basement because true one level living is all the living done on the main floor with bonus space in the basement. The homes that I grew up in were just this; one was an atomic ranch with no basement in SE Portland and the other a larger ranch with a daylight basement in Happy Valley. The basement space we had was used as a rec room with a pool table, very cool.

Currently there are 50 active listings that are one level ranches in NE Portland. Most of them are located in outer NE in neighborhoods like Argay Terrace (this area is known for the sprawling ranch and is located off NE 122nd between NE Sandy Blvd and interstate I-84.) The prices range from $204,900 up to $424,950 with an average square footage of 1500 square feet. One level homes tend to sell for a higher price per square foot due to the demand for these. These homes are appealing to people with children, pets, medical issues, aging family members and so on. The master on the main became popular with new construction due to this as well. People who are buying their last house want to make sure that when they are no longer able to navigate stairs, they will be able to comfortably live in their homes. Below are 3 homes that sparked my interest: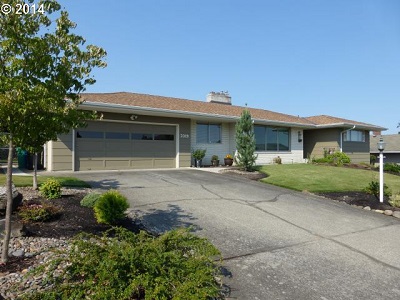 Argay Terrace Ranch Home:
3319 NE 130th Ave
$424,950.00
3538 Square Feet
0.21 Acre Lot
*
*
*
*
*
*
*
SE Portland Ranch Home:
8806 SE Harney St in Portland
$269,700.00
2777 Square Feet
0.22 Acre Lot
*
*
*
*
*
*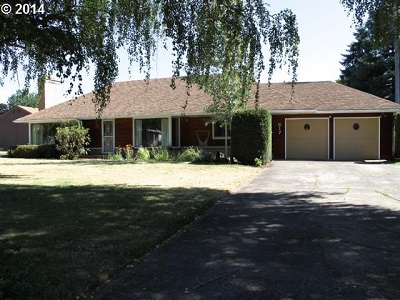 Canby Ranch Home:
617 N Knight Bridge Rd. in Canby
$329,900.00
2429 Square Feet
0.64 Acre Lot
*
*
*
*
*
*
There are also disadvantages to living in a one level home. Depending on where the home is located the yard may be quite small with a one level home. Building up instead of out allows for more outdoor space with a typical 5000 square foot city lot. Privacy can also be an issue with one level homes, sometimes bedrooms are situated close to other main living spaces like kitchens and family rooms. This would make it hard for a day sleeper to co-habitat with the rest of the family. It would also make it difficult for sleeping babies. Although, most ranches have long hallways with bedrooms and bathrooms tucked away from living spaces which would help with noise level. Noise was never an issue in the homes I lived in, the bedrooms were always away from everything else. We also had large yards in our ranches, but lived further out to get this. Neither of the homes I grew up in had air conditioning and really it was never an issue. Having a one level home helps with temperature control and eliminates having an upstairs that tends to be hotter. Another drawback to one level living is a lack of storage, without an attic or basement to store things, the overflow tends to end up in the garage.

Overall, living in a one level is a dream of mine, especially while I have young children. The appeal of not having to gate stairs and worry every time we go up and down is strong. Strong enough to continue the search.
Written by Amanda Folkestad 
Edited by Brian Porter