Atwater Place Condos - Luxury on the South Waterfront
October 25, 2015 13:34
Atwater Place Condos - Luxury on the South Waterfront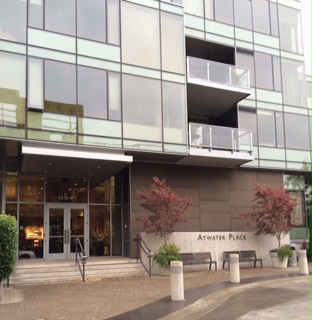 Atwater Place Condos are located only 125 feet from the Willamette River in the popular South Waterfront neighborhood in Portland. The South Waterfront began Portland Condo development in 2004 and is a far cry from what it was then today. There are lots of high rise luxury towers, apartments, restaurants, boutiques and more. Atwater Place condos have one of the best locations in the South Waterfront and are home to 214 luxury condos.
Atwater place was built in 2007 and has a wide variety of high end condos. There are 5 townhouses and 199 true condos that are one level units. The condos at Atwater range from 1100 square feet up to 3700 square feet and have been increasing popular since originally being sold. Atwater Place Condos have high end finishes and construction including double wall construction with air pockets to ensure noise control and privacy. Privacy can be difficult when living in a condo, but at the Atwater there were no chances taken during construction to keep the noise issues to a minimum.
Currently there are 2 condos for sale at the Atwater Place ranging from $899,900 up to $1,149,000 with an average price per square foot of $485. These are both prices well looking at the most recent sales. In the last 3 months 2 condos have sold in Atwater Place at $544 per square foot. One was a 2300 square foot 2 bedroom, 2.5 bathroom condo that sold in 71 days for 1.4 million cash. The other was a 1061 square foot 1 bedroom, 1.5 bathroom that sold in 80 days for $450,000 with conventional financing. There are currently no pending sales.
The Atwater Place condos boast a full time concierge, common room and private courtyard and all of this is just steps from the Willamette river. The Atwater is 23 stories tall and most units have spectacular views. Living in the Atwater and the South Waterfront is a relatively new Portland experience considering this area was nothing 11 years ago. Today the South Waterfront is a community in itself with tons of restaurants, shops and other businesses. There is a wide variety of folks who live here including young families, millennials, empty nesters and more.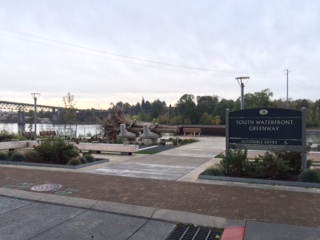 Written by Amanda Folkestad and Brian Porter