Jamison Square Park - A Pocket Park in Portland
July 05, 2017 10:34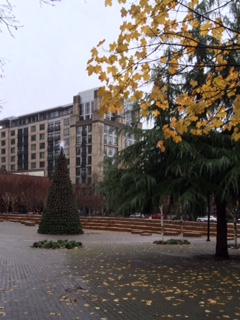 Jamison Square Park gets many visitors each day including local residents to out of town visitors. The park is located in the heart of Portland's Pearl district on NW 11th between NW Kearney and NW Johnson Streets. Jamison Square is to the Pearl what Pioneer Courthouse Square is to Downtown Portland. The park is popular year round with lots to do, including a water feature in the summer and a Holiday tree in the winter. Jamison Square was created in year 2000 and at the time cost $3.6 million to complete. Condos around Jamison Park sell for an average of$600 a square foot.
Currently there are 4 condos for sale near Jamison Square Park ranging from $399,000 up to $1,025,000 with an average of $598 per square foot. The condos that border the park were built between 2000 and 2004 and have a modern feel to them. Some are more loft like with open bedrooms and loft spaces while others are true condos with separate rooms. There is one pending sale at this time that have an average price per square foot of $526. 7 condos have sold in the last 60 days around Jamison Square Park ranging from $356,000 up to $1,650,000 with an average square foot price of $608. There are several condo buildings surrounding the park including the Park Place Condominiums, Tanner Place Condominiums and the Riverstone Condominiums. All of which are beautiful places to live with views of the park and modern amenities.


Jamison Square is considered a pocket park as it is on the small side. Taking up a city block and .94 acres Jamison Square doesn't disappoint. There are three main parts of this park: the fountain, boardwalk and art. Jamison Park is easy to spot with four 30 foot tall totem poles flanking each corner. These tiki totem sculptures are functional too as they hide the utility poles for the streetcar that runs on both sides of the park (NW 10th and 11th Avenues) . There are several other pieces of art in the park as well.


Jamison Park is very accessible considering it is located right on the streetcar line. Not only do folks who live in the condos and buildings surrounding the park use it many come from all over the city to enjoy it. In the summertime the park is full of families with small children who enjoy the fountain. The water feature is constantly circulating with filtered water that creates a shallow – about 12" at the deepest point- wading pool that is perfect for kiddos. Some people don't enjoy all the commotion of the children playing, screaming, crying and wearing diapers. So if you are looking for peace and quiet this is not the place for you in the summer. During the winter months there is a lovely Christmas tree and lighting ceremony and other events that are a little less hectic.


Jamison Park has a beautiful Ipe wood boardwalk that leads to shops and restaurants on NW 10th Avenue. There is a 24 hour restroom – a Portland Loo- that was added in 2010 after the popularity of children in the park was evident. There are some issues with the park due to the sharing of the smaller space with children and dogs. The two groups don't always mix well and seem to always want to bother each other. There are lots of folks who live in the Pearl with their dogs and want to use the park to walk with their pets and let them use the fountain to play. While the hundreds -at times – of others there with their children don't seem to appreciate the dogs running in and out with the already existing chaos of lots of kids with a large water fountain.


Jamison Park has continued to grow in popularity regardless of the small issues that are present here at the park. It really isn't a space issue as much as a social issue with two groups of people getting along and making it work together while respecting each other's views. Much like life when enjoying a place respect is key and a little courtesy goes a long way too. Overall Jamison Square is a lovely pocket park that is well designed and will continue to be used for many years to come.


Written by Amanda Folkestad and Brian Porter