NW Musicfest
January 07, 2013 03:17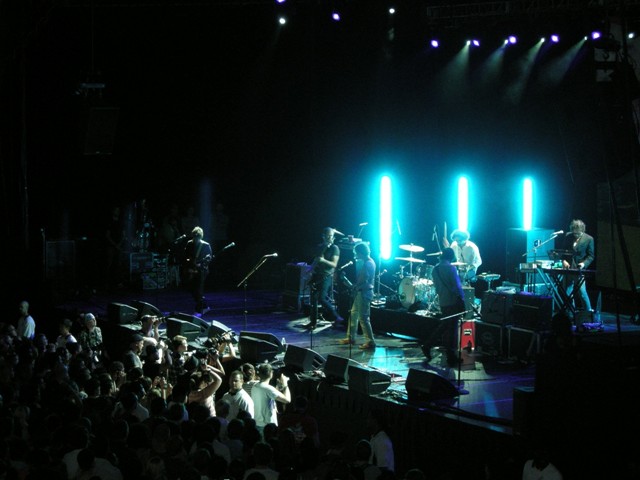 MusicfestNW: Summer's last blast of sun and song
Blog and Photos by Wade Nkrumah
The 90-degree heat under cloudless skies Tuesday hardly was the 'breather' I expected on the heels of Labor Day weekend at Bumbershoot in Seattle and the eve of Wednesday's kickoff to Musicfest NW in Portland.
But I'm certainly not complaining. In fact, I'm relishing this week's hot days, which will mean warm nights as I roam downtown streets, going venue to venue, during the music festival's (musicfestnw.com) five-day run through September 11.
Last weekend's return to Bumbershoot, after a six-year absence, was the perfect Musicfest NW primer. It was invigorating, too. This, despite as-expected throngs of people and long lines, such as the late-afternoon serpent-like mass of humanity snaking way north and then way, way east outside Key Arena (see photo) hours in advance of Sunday's filled-to-capacity Wiz Khalifa show.
Thankfully, such lines are highly unlikely at Musicfest NW. The festival is spread over nearly two dozen mostly central city sites, including small concert venues, bars, nightclubs and Pioneer Courthouse Square.
Bumbershoot, which rages in the shadow of the iconic Space Needle, is confined to the more intimate footprint of Seattle Center.
Even so, access into Key Arena was a breeze for the mid-afternoon Sunday performance of Broken Social Scene (see photo), which gave a crowd-pleasing and spirited show.
"Sorry about your basketball team,'' the band's leader said between songs. "I blame Ben Gibbard. Is that fair?''
The comment was an all-in-fun and respectful nod – jokingly at the expense of Death Cab for Cutie's leader – to the many in the audience and throughout Seattle Center sporting caps, jerseys and shirts in homage to the SuperSonics – the beloved and departed National Basketball Association squad now known as Oklahoma City Thunder.
Later, as the line for Wiz Khalifa grew with afternoon transitioning to evening, I settled for a dose of Tennis – the band, not the sport. The trio turned in a fine outdoor set on Fountain Lawn Stage (see photo).
I hope to catch them again – and you can, too – Saturday during Musicfest NW.