Where did all the listings go?
January 16, 2012 09:39
Portland Real Estate Market Update: December 16th 2011
It is winter and inventory goes down in the winter because it is not the best time to sell, but RMLS is reporting that the active listing count is at its lowest point in 3 years.  Take a look at the Inventory in Months chart below, courtesy of RMLS: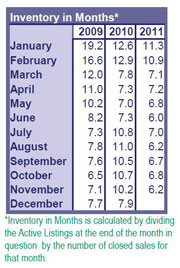 Why is inventory so low?  Well, for starters sales are up.  Closed sales increase 18.9% when comparing November 2011 with November 2010.
Second, new listings are down.  Year to day new listings are down 26% in 2011 compared to 2010.
Supply is down, demand is up.  Either one of these factors is enough to affect price, but the combination of lower supply and higher demand has had a positive effect on price.  From October to November 2011 the median sale price was up 3.3%.  However prices fell 4.6% over the past 12 months.
Who in their right mind would want to sell right now?  Banks, owners who are under water (short sales), builders, investors who flip properties, sellers who want to move up, down or out of the area, sellers who are getting the squeeze because of relatively high mortgage rates vis-a-vis current mortgage rates or adjustable rate mortgages, etc.  In other words, the only people selling right now are selling because they have to sell, or they are looking to re-position their assets.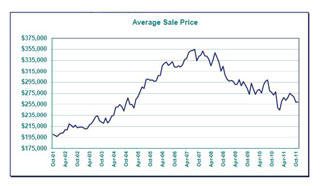 Even though prices have been going up lately, we will still probably see our winter capitulation cycle where sellers who were not able to sell during the high season give up and sell at whatever price they can get.  So I believe that we will see a dip in prices over the next couple of months.  However, when spring comes, look out!
This is the most exciting real estate market I have seen in the past 20 years.  Opportunities abound!