The John Ross Condos - a South Waterfront Tower
November 02, 2015 10:03
 The John Ross Condos - a South Waterfront Tower
The John Ross Condos are the tallest tower in the South Waterfront and the first to meet the height maximum of 325 feet in Portland's South Waterfront neighborhood. There are 303 units in the building that range from 600 to 5000 square feet including 11 penthouses. The John Ross was completed in 2006 and since then has had a rough go with a auction - selling units for much less than originally anticipated - but, now the building is back to being a very desirable place to live for many.
Currently there are 2 units for sale in the John Ross condos ranging from a one bedroom one bathroom 1201 square foot condo listed for $419,000 up to a 2 bedroom 2.5 bathroom 2271 square foot condo listed for $895,000. The average price per square foot of the listed condos is $378/ sqaure foot. There are 3 condos pending sale with an average price per square foot of $415 with an average of 7 days on the market. In the last 90 days 11 condos have sold in the John Ross. The sales prices ranged from $250,000 up to $880,000 with an average square footage of 940 square feet and $409 per square foot on average.
The John Ross has 31 floors that house 303 condos including 11 penthouses that sit on top of the building in a 4 story podium. The John Ross is the 7th tallest building in the city of Portland and is LEED certified as are most buildings on the South Waterfront. The condos in the John Ross are modern and minimal with large windows, hardwood floors, granite countertops, state of the art fixtures and high end appliances. The John Ross has a full time concierge, a community room, parking, 5th floor garden terrace and more.
Residents in the John Ross include old and young and the atmosphere here is friendly and active. Check out another article we wrote about living in the John Ross here. It is not uncommon to see residents in the elevator going down to take a run or walk through the neighborhood. It is rumored that the John Ross is leaning, but there is no evidence that this rumor is true and as far as we know it is just an urban legend. I am sure that the residents, HOA and neighbors have looked into the matter, because if it is leaning this could be a serious structural issue. Front line news for sure.
The John Ross is one of the few high end high rise condo buildings that make up the South Waterfront neighborhood. There are many options of floor plans here and something for everyone. The South Waterfront is a thriving fun urban neighborhood with lots to offer including luxury condos, restaurants, boutiques and more.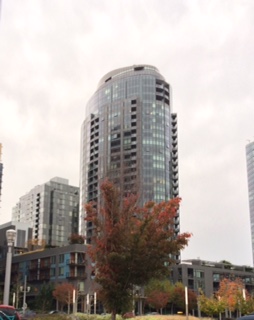 Written by Amanda Folkestad and Brian Porter