The Riverplace Condos in the Pearl
December 07, 2015 10:54
 The Riverplace Condos in the Pearl
The Riverplace Condos are located at 820 NW 12th Avenue in Portland's popular Pearl district. The Riverplace condos stand 6 stories tall and have a classic brick exterior. They were built in 1999 and some have been remodeled since then. The units at Riverplace are true condos with separate bedrooms and living space, although they have open floorplans.
The location of the Riverplace Condos is stellar right across the street from Jamison Square park and right on the Portland Streetcar line. Walking is what you do if you live at Riverplace with tons of local businesses at your doorstep. If you do need to have a car there is parking as well, but many who live here take transportation, bike or walk to their destinations. There truly is everything you would need within blocks of this building. Grocery stores, restaurants, dry cleaners, banks, salons, shops and more. This is one of the best located condos in all of Portland's NW Pearl district in my opinion.
Currently there is one condo for sale at the Riverplace Condos. It is a penthouse with 1998 square feet and is listed for $995,000, making it $498 a square foot. It has been on the market for 18 days and my guess is it won't last long. The penthouse has been completely remodeled by a local design firm (Neil Kelly) and is gorgeous. There is one condo pending sale at $655,000 ($492/ sqaure foot) that is 1330 square feet and was on the market for 21 days. In the last 3 months 2 condos have sold in the Riverplace building ranging from $447,000 up to $695,000. They were on the market for an average of 39 days and sold for an average of $509 per square foot.
The Riverplace condos are true condos with bedrooms, decks and a beautiful interior courtyard. The courtyard is a unique feature that creates an urban oasis as it is quiet, landscaped and unexpected. The interiors of the condos are modern yet warm with large windows, hardwood floors and open concept kitchen/ living areas. All of the condos have gas fireplaces and parking spaces.
The Pearl district has changed so much in the last 10 years. 25 years ago it was all warehouses and abandoned buildings. Development in the Pearl is not slowing down either as in the last 10 years condo buildings with retail ground floors have popped up all over the area. There are more projects in the works too, mostly modern luxury condos with underground parking and excellent views. Most of the buildings in the Pearl are shorter than 10 stories as there were very strict building codes in the heart of the district to keep the neighborhood consistent and comfortable, but some of the newer buildings are very tall giving almost all the condos amazing views. The Riverplace condos are only 6 stories tall, but the units that overlook Jamison Square park have a wonderful urban view and a sense of privacy as there is a whole block of park between them and the next buildings.
Jamison Square park was established in 1999 and was named after William Jamison who was an art gallery owner that influenced development and growth in the Pearl district. Jamison passed away in 1995. Jamison Square opened in 2002 and has a boardwalk, fountain and art. It is a great place for anyone to go and experience a true Portland pocket park. The fountain creates a shallow tidal pool that you see many people and kids using in the summer months.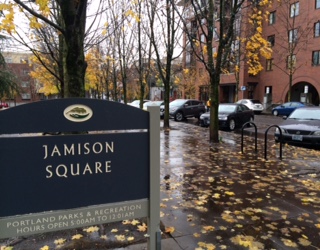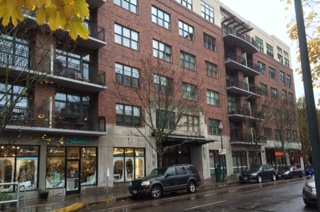 Written by Amanda Folkestad and Brian Porter