The Eliot Tower Condos - Luxury in SW Portland
December 05, 2015 15:57
 The Eliot Tower Condos - Luxury in SW Portland
The Eliot Tower Condos are arguably some of the most luxurious condos in Portland. They have a stellar location in SW Portland on SW 10th and SW Jefferson. The Eliot Tower condos consist of over 220 units that range from smaller one bedroom or studio units up to the glorious penthouse that is over 4000 square feet. The Eliot Tower Condos are impressive with great amenities and an amazing location.
The Eliot Condos are close to many things that SW Portland has to offer. In the heart of the cultural district the Portland Art Museum is steps away along with Safeway and the Portland Streetcar. Living here truly is living in the heart of downtown Portland, the options for condos in this area are limited and the Eliot is a lovely place to call home. Portland State University and the park blocks are a short walk away along with the seasonal farmers market that is held there.
The amenities at the Eliot include: a full time concierge, gym, community kitchen, outdoor bbq and eating space, library, meeting room and a gorgeous lobby that happens to have a fabulous christmas tree up at the moment. The Eliot stand 18 stories tall with a super modern glass facade and a beautiful welcoming stone courtyard. Everything about the entrance of the Eliot feels luxurious.
Currently there are no units for sale in the Eliot Tower Condos, but there are 4 pending sale. The pending sales range from $325,000 up to $939,000 with an average price per square foot of $528. These condos were on the market on average for 24 days and are on average around 1100 square feet. In the last three months 3 condos have sold in the Eliot ranging from $345,000 up to $2,100,000 for the amazing 4300+ square foot penthouse at on average $472/square foot.
The Eliot Tower condos were built in 2006 and since then have remained valuable even with the market decline we experienced a few years back. The Eliot sold out quickly and resale condos in the building continue to sell in a relatively fast fashion. The condos in the Eliot are unique in that they are very modern with floor to ceiling windows, concrete walls and beams and open floorplans, but tend to feel homey and can be very cozy with the right furnishings. Some of the condos are true lofts with no walls dividing the sleeping spaces and others have defined rooms. The finishes are all high end and the higher level condos have great views.
The Eliot Tower condos have become more and more popular over the last 9 years due to the location, amenities and lack of condo inventory in SW Portland. Living here makes commuting easy with the Streetcar right out front and allows residents to walk to coffee shops, grocery stores and more.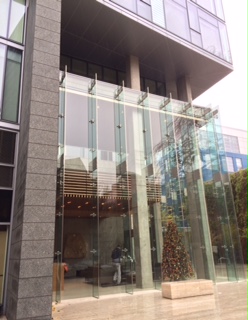 Written by Amanda Folkestad and Brian Porter