Boise Eliot Neighborhood
February 10, 2015 10:46
 Boise Eliot Neighborhood –
The Boise Eliot neighborhood is located on the east side of the Willamette River in Portland. The increasing popularity is due to the cool old houses, close proximity to downtown Portland and the overall vibe of the area. Boise Eliot has become a Mecca for the hip Portlander who wants a true Portland experience. The very walk able Williams and Mississippi Streets are a part of this district and add to the desire to reside here. Living in the Boise Eliot neighborhood is a lifestyle experience that many old and new Portlanders are flocking to.

Folks who live in Boise Eliot appreciate the older homes, local business and bike friendly atmosphere. There are several city parks within the Boise Eliot neighborhood where residents can walk, play basketball and even swim. There are endless amounts of boutiques on Mississippi Ave along with restaurants and music venues. Williams Ave has recently been developed extensively as well with shops, restaurants and coffee houses. The Boise Eliot neighborhood truly has lots to offer.

Boise Eliot has a great central location minutes from downtown with good access to transportation. Many of the residents in Boise Eliot walk and it is not unusual to see many bikes on the streets as well. There is a strong sense of community within the Boise Eliot neighborhood and lots of support for local business. There are several neighborhood associations with a good web presence that encourage clean up days, neighborhood festivals and more.

There are currently 8 homes on the market in the Boise Eliot neighborhood. 1 is actively listed and the other 7 are already pending sale. The active listing is one of our listings and has 7 offers on the property within a couple of days of being on the market and will be pending sale probably before this article is complete. Prices in the Boise Eliot neighborhood have risen considerably in the last 10 years and house hunting here can be difficult as it is a very competitive area. The homes on average are listed in the low $400,000's and are going pending within 50 days. With our current listing we noticed the demand in the area is high with lots of potential buyers attending an open house and writing offers over the asking price. The average price per square foot in the Boise Eliot neighborhood is $244.
Here is a picture of the listing we have in the Boise Eliot neighborhood: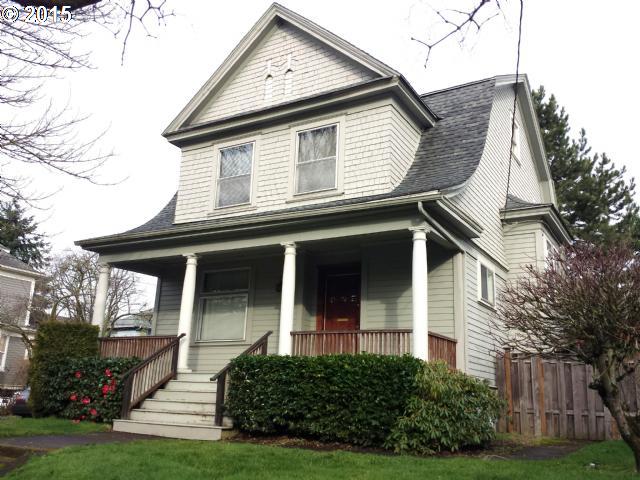 Overall, the Boise Eliot neighborhood is what living in Portland is all about. The streets are lined with old Portland houses, filled with bicycles and pedestrians, boutique shopping and restaurants and so much more. When you have some extra time go and check out Mississippi and Williams Avenues, the parks or just walk around the area to immerse yourself in the local culture. You will not be disappointed.

Written by Amanda Folkestad and Brian Porter