The Lakewood Neighborhood in Lake Oswego
September 25, 2017 13:47
 The Lakewood Neighborhood -
The Lakewood Neighborhood is located next to Old Town, Oswego Lake and the Willamette River in Lake Oswego. Homes in Lakewood were built anywhere from the turn of the century until today, but predominantly in the 1930's and 1940's. The Lakewood neighborhood of Lake Oswego is known for having some lovely homes right on Oswego Lake and being close to downtown Lake Oswego's shopping and dining.
Currently there are 5 homes for sale in the Lakewood neighborhood ranging from $649,000 up to $2,795,000 with an average of $525 per square foot. The homes for sale in Lakewood are on average 2866 square feet and have been on the market for 21 days. There is one home pending sale with a bumpable status at $582 per square foot. 2 homes have sold in Lakewood in the last 90 days including a $850,000 and $1,360,000 home with an average of $359 per square foot. These homes were both on the market for around 6 days. 
Lakewood is a wonderful pocket of Lake Oswego that offers a wide variety of housing types. There are river front condos that range from the low $400's up into the $1,000,000 + dollar range. There are lovely older well maintained riverside cottages and bungalows. There are new custom craftsmans and other condos as well. There really is something for everyone in Lakewood. The commute to downtown Portland is 20 minutes by car, 35 by bus or around 1 hour and 15 minutes by bike.
Lakewood is close to downtown Lake Oswego and therefore allows residents to enjoy everything the small downtown has to offer. A wonderful seasonal farmers market, great shopping, gourmet dining and lots of local business. Walking to a coffee shop or grocery store is an everyday occurrence for some. Enjoying the mountain and river views while living in a quiet safe neighborhood is what Lakewood is all about. There are excellent schools which is always a draw for families.
Lakewood is an ever changing and evolving neighborhood, but maintains its small town feeling. You will see lots of people biking, walking, shopping, gardening and more. Lakewood is a special little neighborhood that is home to around 700 residents. The magic of Lakewood in my opinion is the mixture of old and new. It is fun to walk up and down the small streets of Lakewood and admire the mix of architectural styles and the beauty of the lake.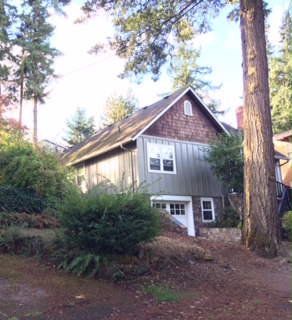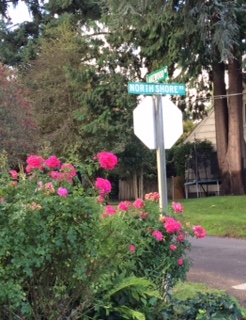 Written by Amanda Folkestad and Brian Porter