The Alameda Neighborhood in Portland
September 25, 2017 10:20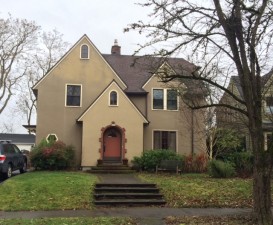 The Alameda neighborhood is very desirable with beautiful homes, great schools and a nice retail core. Alameda is located in inner NE between the Beaumont and Hollywood neighborhoods. Alameda sits South of Prescott, North of Knott, West of 33rd Avenue and East of 24th Ave. Alameda is a small neighborhood that includes the infamous Alameda Ridge with grand old craftsmans, tudors and colonials that overlook the city with some amazing views.

Most homes in the Alameda neighborhood were built between 1900 and 1940. They sit on large lots with beautiful tree lined streets. Alameda is an extremely desirable neighborhood not only for its storybook like charm, but also for having excellent schools. Alameda is primarily residential with the exception of the businesses on NE Fremont Street.

Fremont Street is home to many local businesses including restaurants, bars, dry cleaners, shops and offices. Every year there is the Fremont festival in the summer where the street is closed down and lined with vendors for locals to enjoy. Our real estate office is located on NE 45th and Fremont so we are just outside of the Alameda neighborhood. The commercial presence in Alameda is charming and concentrated in some old historic buildings along Fremont Street as well as newer small buildings on the same street. The neighborhood is very walkable and bike able.

Alameda is home to some of Portland's most grand homes with large craftsman, colonials and tudors on large lots. Some of the homes on Alameda ridge are 5000+ square feet with all the amenities you would expect from a home at the turn of the century. Full basements, butler's kitchens, amazing woodwork, glorious windows, beautiful outdoor courtyards and more. There is a nice mix of more modest homes as well, still with large lots and nice original features. There are some newer infill homes in Alameda, but not as many as you see in close by neighborhoods. Alameda has a great sense of community with great schools and high property values.

Currently there are 14 homes for sale in the Alameda neighborhood ranging from $589,900 up to $1,150,000. The average square footage is 2994 square feet and these homes have been on the market for an average of 26 days. There are 16 homes pending sale ranging from $374,900 up to $1,249,999. In the last 30 days 2 homes have sold with an average price per square foot of $218. The prices ranged from $750,000 up to $1,260,000. These homes were on the market for an average of 18 days before selling.

Homes in Alameda have a wide range of styles and prices and yet the neighborhood is easy to recognize as the overall feel is very consistent. It would be very challenging to find a home in Alameda for under $400,000 and the market is very competitive for anything under 1 million in the area. Above that price range the homes take longer to sell as there are less buyers with that budget. Alameda is a great place to live with lots of walkable businesses nearby, good transportation and a nice quiet neighborhood feel.
Written by Amanda Folkestad and Brian Porter