Portland Architecture - The Most Common House Styles in Portland
September 04, 2017 10:19
Portland Architecture - The Most Common House Styles in Portland
Portland is known for it's beautiful lush green landscape, being close to the mountains, the beach and of course being weird! Portland truly is a unique city with much to offer. We have eclectic neighborhoods, businesses, people and homes alike. This article will outline Portland's most popular house styles and take a closer look into each one.
Craftsman and Bungalows -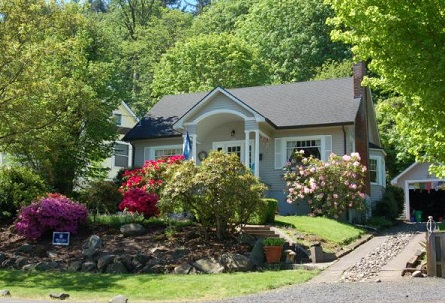 Craftsman homes were typically built in the 1910's and 1920's and are very popular in the inner East side of Portland. Craftsman homes feature one to two stories with typical period details such as built-ins, porches and chunky wood work. The original built ins in these homes are featured around fireplaces, in the dining rooms, kitchen nooks, hallways and bathrooms. Craftsmans are plentiful in style and extremely popular among buyers, I would go as far as to say that this is one of the most coveted house styles in Portland. Craftsman's don't have wide open rooms like ranches, but do feel spacious with lots of windows, high ceilings and two level living. It is common for a craftsman to have a living and dining room, kitchen, bathroom and one to two bedrooms on the main floor. Most I have seen have 2-3 bedrooms upstairs and if you are lucky a full bath upstairs as well. Some only have a bath on the main, but it is not extremely difficult to add one to the upper floor on most of these well built homes.
The Bungalow is essentially a smaller version of a craftsman. You will see the same chunky woodwork, gorgeous built-ins and large front porches. Bungalows differ is that usually they have less rooms in the upstairs. Some bungalows don't even have an upstairs, just an unfinished attic. Most bungalows in Portland have an upstairs that once was an attic space that has been converted to living space and features a master suite or large open space used for sleeping or as a bonus room. Bungalows do not typically have an original upstairs bathroom, but some do.
Both Craftmans and Bungalows have a similar feel from the outside, large porches and overhangs with heavy fascia, beautiful wood windows, low pitched roof lines and exposed rafters. They also have detached garages that are set back behind the home or no garage at all.
Old Portland / FourSquare -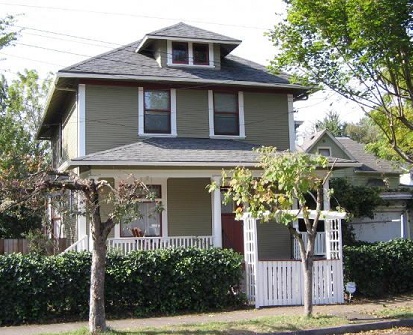 Old Portland, also known as a Foursquare, is a popular house style in the inner East side of Portland. Old Portland's were typically built in the late 1800's to about 1930. They feature a simple and strong style, two stories and are very well built. These homes are known as Foursquares because they have four rooms on both floors with stairs in the middle. The main floor usually houses the living spaces and one bedroom. Upstairs you will find a bathroom, and 3 to 4 bedrooms. Old Portland's tend to have simple woodwork and feel like farmhouses. Old Portland's are recognizable by there large square exterior with thin cedar lap siding and centered front doors with porches. These home tend to be simple and structural in design rather than ornamental, but still beautiful and grand.
There is a type of Old Portland that is known as a Prairie style. These are very similar to Old Portland's, but are asymmetrical on the outside with the front door usually being to the right or the left of the front porch and not centered. The roof lines on Prairies are less steep than on Old Portland's and usually have a covered front porch as well.

Ranch / Mid Century Modern -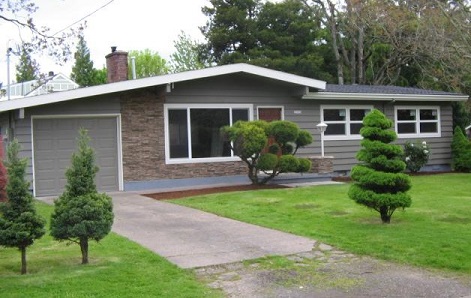 Ranch homes were typically built in the 1950's and 1960's in Portland and are scattered throughout the entire city. The ranch home features one level living at it's best with an open floor plan and spacious living spaces. Some have full basements and even daylight basements, a daylight basement, also known as a walk out, is accessible to the backyard and is typically built on a sloped lot. Ranches were solidly built post war and are also called "atomic" ranches for this reason. Ranches feature large picture windows, modern built- in's, brick fireplaces, hard wood floors, open concept living spaces, 8 foot ceilings and simple woodwork. Mid Century Modern Ranches can also have vaulted ceilings, built in bars in the basements and plenty of storage. Untouched mid century modern ranches are highly coveted for there livability and potential of greatness. I have seen some stunning restorations of these homes. Simplicity was the key with these homes as well as open living. You will typically see a kitchen open to the dining room with lots of windows and natural light. Wood work in these homes was simple and slim, usually around the windows, doors and baseboards.There are some built ins seen in ranches, such as floating bookshelves to separate rooms.
Ranches are easy to recognize with low pitched front facing roofs, 2 car attached garages, sidewalks from the driveway to the front door, brick and wood exteriors and large picture windows.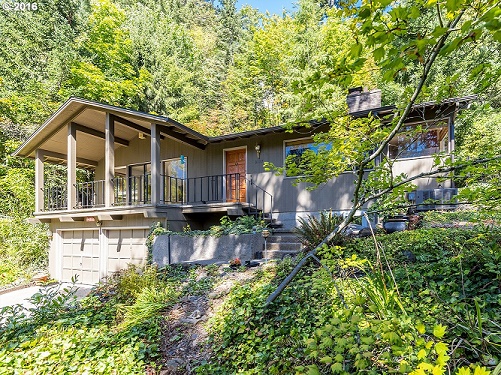 This is a home that we sold in SW Portland. The home has some amazing original mid century modern lines and features inlcuding exposed wood ceilings, large windows and a wonderful covered front deck. 
Tudor -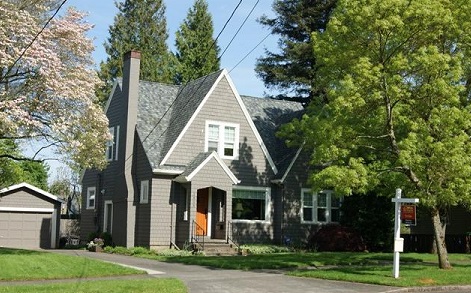 Tudor homes were typically built in the 1920's through the 1940's and are plentiful in the inner NE neighborhoods of Portland. They are easy to recognize with exposed beams on the front of the home with stucco or brick exteriors and steep roof lines. Most Tudors have large bedrooms and living spaces and feel very private once you are inside. Tudors are almost always 2 stories with bedrooms upstairs and main living areas on the main, some Tudors have basements, but not all. Tudors feature leaded glass windows, stucco fireplaces, hardwood floors, extensive iron work and built in's. Tudors tend to feel fancy, formal and elegant, yet are still functional for everyday life. These homes are all about embellishments and decorative details. Most Tudors I have seen include the above mentioned details as well as sunken living rooms and gorgeous inlays in the hardwood floors.
Cape Cod-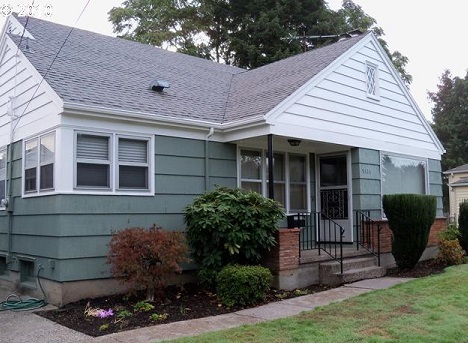 Cape Cods are a very distinctive house style with steeply pitched front facing roofs, dormers and symmetrical front facades with centered doors and windows. Classic Cape Cods have at least 2 dormers, sometimes more. Cape Cods are scattered throughout the city on the East and West sides and are also found in the suburbs. Cape Cods feature fireplaces, simple painted woodwork, paned windows, shutters and small uncovered porches. They are 1.5 stories tall and almost always have the bedrooms upstairs with living on the main. Cape Cods have less of an open feel and tend to have smaller more closed off living spaces and rooms. Many of these were built from 1930- 1950 and are wood and/ or brick on the exteriors. A classic Cape Cod home would have had flower boxes and unpainted cedar siding. Cape Cods became less popular after the 1950's as they were looked as as a "poor mans" home or farmers home. I personally find them charming and simple.
Most Cape Cods that were built in the 1950's include attached or semi attached garages. Some have covered breezeways leading from the garage to the house. Cape Cods can have basements, but these are not typically large enough for anything other than storage.
Townhouse Style Homes-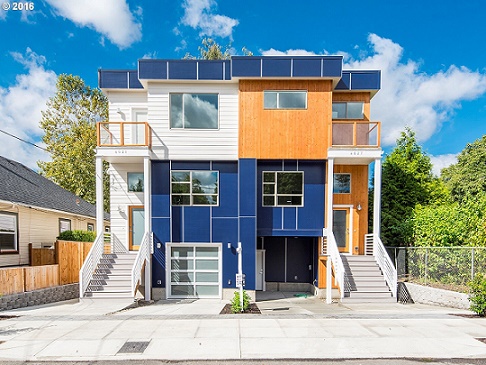 Townhouse style homes are becoming more and more popular in inner East side Portland. Lots of developers are purchasing older homes, tearing them down and putting up townhouse style homes and condos. This helps with the lack of housing available in Portland and also with modernizing the city. Many people find that new townhouses are the way to go allowing residents to live in a home that mimicks a single family residence with a smaller price tag. We work with a builder that builds these all over NE Portland and they are beautiful. Nice open floorplans, tall ceilings, lots of windows and natural light, modern high end finishes and great locations are just some of the things that these homes have to offer. We have a few that are still available for sale now and some that will be coming soon. This photo is a townhouse we sold right next to Two Plum Park on NE 7th Avenue in Portland.
There are many homes that make up the Portland home-scape and the above mentioned styles are just a few of what Portland has to offer. If you are new to the city or looking at different neighborhoods to live, check out the architecture. There are some great home tours available that are a fun way to spend a weekend day poking around the city.
Written by Amanda Folkestad and Brian Porter