market analysis August 2011
August 24, 2011 16:26
This graph clearly shows that the average sale price has been going up in Portland in 2011.  This graph was published in the July 2011 Market Action report that is put out by RMLS. 
I do have some concerns about this graph and real estate values in Portland.  First, it appears that the price of 275K is a point of major resistance. When will Portland Real Estate be able to breach that price?  We are coming to the end of our high season, and prices typically go down in the winter. If we do breach the 275K in the next month or two, then the 275K price might serve as point of support.  However, if we do not break out above 275K then we might re-test the bottom price of about 250K.  
The national news regarding the debt ceiling, the loss of the AAA Bond Rating of the USA and the sharp decline of the stock market in August are weighing on the local real estate market.  I noticed some apprehension and lack of confidence from buyers during the first part of August.  In the past week or so, things have picked up a bit, but the market is still fragile and the recovery is questionable at best. 
Some people are starting to say that the market has bottomed out (see the article on Oregon Live dated August 16, 2011), but I will rest a lot easier in the spring of 2012.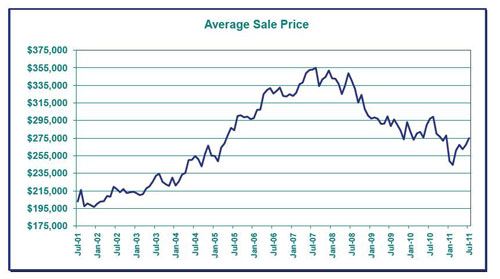 Some other interesting facts are: Closed sales (number of units) were up 21% when you compare July 2011 with July 2010.  The average sale price declined 7.4% over that same period of time.  The average sale price went up to $275,100 from $267,100 from June to July of 2011.