Heron Pointe Condos - Unique Condos in John's Landing
November 15, 2015 14:27
 Heron Pointe Condos - Unique Condos in John's Landing
The Heron Pointe Condos are located in the John's Landing neighborhood of Portland right on the Willamette River. The Heron Pointe Condos were built in 1988 and have been well maintained since then. Condos here are comfortable, on the smaller side and all one level. The Heron Pointe condos have a fantastic location less than a mile from downtown Portland.
Currently there is one condo pending sale at Heron Pointe condos. It is pending at $375,000 and is a 1015 square foot 2 bedroom 2 bathroom unit. This condo was on the market for 12 days with a $369/ square foot price. All of the condos at Heron Pointe have 2 bathrooms and either 1 to 2 bedrooms. They range in square footage from 842 to 1058 square feet. All of the condos have fireplaces and patios or balconies as well as deeded covered parking under carports.
In the last 90 days 2 condos have sold in the Heron Pointe condos for on average $314 a square foot and selling within on average 4 days on the market. The condos here are desirable for folks who both want to live on site and invest in real estate as there is no rental cap in the buildings. There are 48 condos at Heron Pointe and each one is unique as they have been remodeled or updated since being built in 1988.
The Heron Pointe condos have a terrific location on the Willamette River, close to downtown Portland and near the Willamette Greenway Trail. There are multiple buildings being built near Heron Pointe so any new owners should be advised of the construction well into 2016.
People choose to live at Heron Pointe for the serene feeling once you step inside the condos. All the condos here have river and Mt Hood views and are steps from great walking trails. Johns Landing is near the South Waterfront and accessible to downtown Portland and OHSU easily. Living here allows the residents to stay active, enjoy the river and be close to the core of Portland all at once.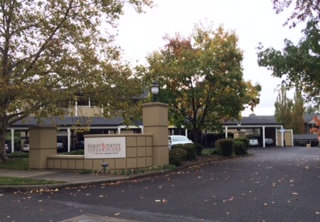 Written by Amanda Folkestad and Brian Porter