Tanner Springs Park - Unique Green Space in the Pearl
November 15, 2016 11:02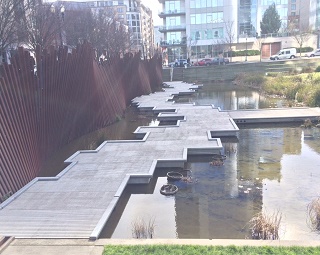 Tanner Springs Park is a unique green space in Portland's popular Pearl district. The park is located at Northwest 10th Avenue and Northwest Marshall Street in Portland's popular Pearl District. The park is 0.92 acres consisting of walking paths, art and urban water features. Tanner Springs Park is a great place to take a picnic, read a book or just sit and meditate. There are lots of local businesses surrounding Tanner Springs Park as well as many condominium buildings.
Tanner Springs Park is used by many local Portlanders as well as visitors. Today the park is very different than it was 150 years ago. The Pearl District was once wetlands with lakes fed by streams from the southwest hills. The springs from Tanner Creek, named for the tannery built by Pioneer Daniel Lonsdale in 1845, flowed into couch lake which is now the surrounding area of Tanner Springs Park. As the population grew in the late 1800's Tanner Creek was rerouted with underground pipes to the Willamette River. Also the lake and wetlands were filled to create space for buildings; mostly warehouses and railroad yards. Today Tanner Springs Park is 20 feet above the original couch lake.
Both the Pearl District and Tanner Springs Park are rich with history, but what makes them so special is how we use them today. Tanner Springs Park is part of a larger plan for the city of Portland to have green open spaces available for all to use. There is a wonderful art wall made of 368 railroad tracks and 99 pieces of glass etched with designs. This wall is the standout piece of Tanner Springs Park and is very recognizable. Lots of local photographers take advantage of this wall using it for a back drop for senior portraits, engagement pictures, headshots and more. There is a nice walking path along the wall that allows anyone to walk and enjoy the art. There are several benches available surrounding the park where you can sit and enjoy an entire city block of nothing but water, art and green space.
Currently there are 4 active condo listings within one mile of Tanner Springs Park. The first is a condo at the Lexis, a contemporary building that was constructed in 2004. The unit here is listed for $419,000, is one bedroom and one bathroom and 873 square feet. The second condo is located in the Metropolitan and is a 1502 square foot 2 bedroom 2 bathroom unit for sale at $899,900. The last 2 condos for sale near Tanner Springs Park are both located in the Cosmopolitan building that was completed earlier this year. One is a 1368 square foot 2 bedroom, 2 bathroom condo listed at $999,500. The other is a junior penthouse listed at $1,559,000 that boasts 2 bedrooms, 2.5 bathrooms and 1653 square feet. The average price per square foot of these 4 condos is $719.
Surrounding the park are several condo buildings including the new Cosmopolitan on the Park – the Pearl's newest and tallest condo tower, 2 of the listings mentioned above are in this building. Overall the Tanner Springs Park is a great place to visit whether you live in Portland or are from out of town. Make an afternoon of it and go to the Pearl District to eat at a local restaurant, drink some fabulous coffee and visit Tanner Springs Park.
Written by Amanda Folkestad and Brian Porter