The Northwest District - Portland's Alphabet Neighborhood
August 21, 2017 09:57
 The Northwest District in Portland
The Northwest District in Portland is located between the West Hills and I-405 and Nicolai to Burnside Streets. The Northwest District is also known as the Alphabet district and NW 23rd. The Northwest District is dense with residential and retail properties. Some of Portland's best boutique shopping is on NW 23rd Avenue and people from all around the city shop here. The variety of housing in the Northwest District is great ranging from condos to turn of the century mansions. The Northwest District is a wonderful pocket of Portland that shouldn't be missed.
Real Estate in the Northwest District is interesting with a great mix of old and new. Currently there are 12 homes for sale in the alphabet district ranging from $195,000 up to $1,575,000 with an average of $402 per square foot. There are also 4 homes pending sale and 3 that have sold in the last 30 days in the neighborhood. The sold homes ranged from $485,000 up to $1,300,000 with an average of $402 per square foot and 7 days on the market. One of the things that make the Northwest District so unique is the wide variety of housing it offers. There are million dollar mansions steps away from rented condos creating a nice mix of residents.
The Northwest District is made up of mostly turn of the century homes and condo buildings. Large brick buildings with ornate decoration sit comfortably next to newer retail buildings and beautiful homes built in the early 1900's. The Northwest District is known for its colorful painted ladies and grand mansions. Lots of the single family homes in the Northwest district have been converted to condos or duplexes so finding a true single family home is rare. The retail presence here is great and many of the newer buildings are on NW 23rd, but there are also tons of older homes and buildings dedicated to retail.
This time of the year is truly magical in the Northwest District. NW 23rd is lit up with Holiday lights and cheer and the gorgeous trees hiding many of the older homes are bare making the architecture of the area more visible. The Northwest District is very walkable with the exception of a few hills and has great transportation. Walking and biking are encouraged when you live in the Northwest District as parking here is an issue for residents and visitors alike.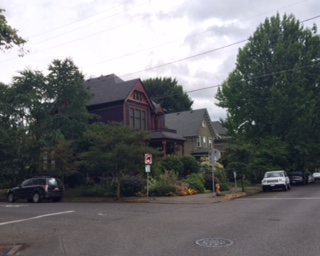 Written by Amanda Folkestad and Brian Porter