"I dream my painting and I paint my dream"
November 23, 2021 09:51
When we hear the name Van Gogh the image that immediately comes to mind is that of The Sunflowers or The Starry Night and a tortured artist who took his own life, but there is so much more to this Dutch Post- Impressionist Painter. He is one of the most influential figures in Western Art World with 2100 artworks produced in just a decade, that includes 860 oil paintings most of which are from the last two years of his life. These works include landscapes, still lifes, portraits and self portraits. His style is characterized by bold colors and expressive brushwork and that is what established the foundations of modern art.
Now imagine you get to step into all those impressive works of art, yes that's what the immersive experience is all about.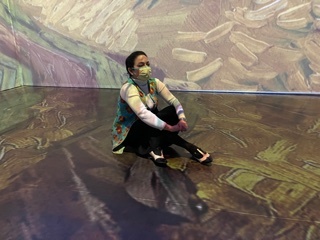 In an imaginative and immersive presentation crafted for our unique times by world renowned audiovisual designers, Beyond Van Gogh uses great technology to create an engaging journey into the world of Vincent Van Gogh. Using his dreams, his thoughts and his words to drive the experience as a narrative bringing the masterpieces to life and flow across the dimensions.
This exhibition is open in various cities including Portland at The Convention Center, it's a great activity to do with elders and children alike and is just so perfect for the holiday season.family activity. Go fall in love with the vivid colors and bold brushstrokes of this amazing artist up close and personal like never before. I personally have this new appreciation for him and I am sure you would too if you went. See below the photos I took at the exhibit and fall in love with Vincent and his works!!
Simmi Malhotra