Demo Day at Mt. Hood Meadows
Last weekend I had the opportunity to "Demo" 5 different pairs of skis for FREE.  My skis are pretty old and skinny so I have been thinking about buying some newer and fatter skis, but I have been unsure about what type of skis would be right for me.  
Once a year Mt. Hood Meadows hosts "Demo Day".  On this very special day many ski and snowboard manufacturers show up with their latest and greatest equipment, and they give the public the opportunity to try out the gear for free.  
I have always been a fan of Rossignol and Dynastar skis.  I tried out 3 pairs from Rossignol and 2 pairs from Dynastar.  I tried out narrow, medium and wide skis.  The narrow skis were great on the groomed trails, and I am sure they would be good for moguls too.  I could turn very quickly and avoid obstacles.  The medium width skis still turn well but the extra width allowed me to better navigate the powder. The wide skis were amazing for the powder but hard to turn.  I found myself just plowing through obstacles instead of avoiding them.
Don't forget to check out Demo Day next year :-)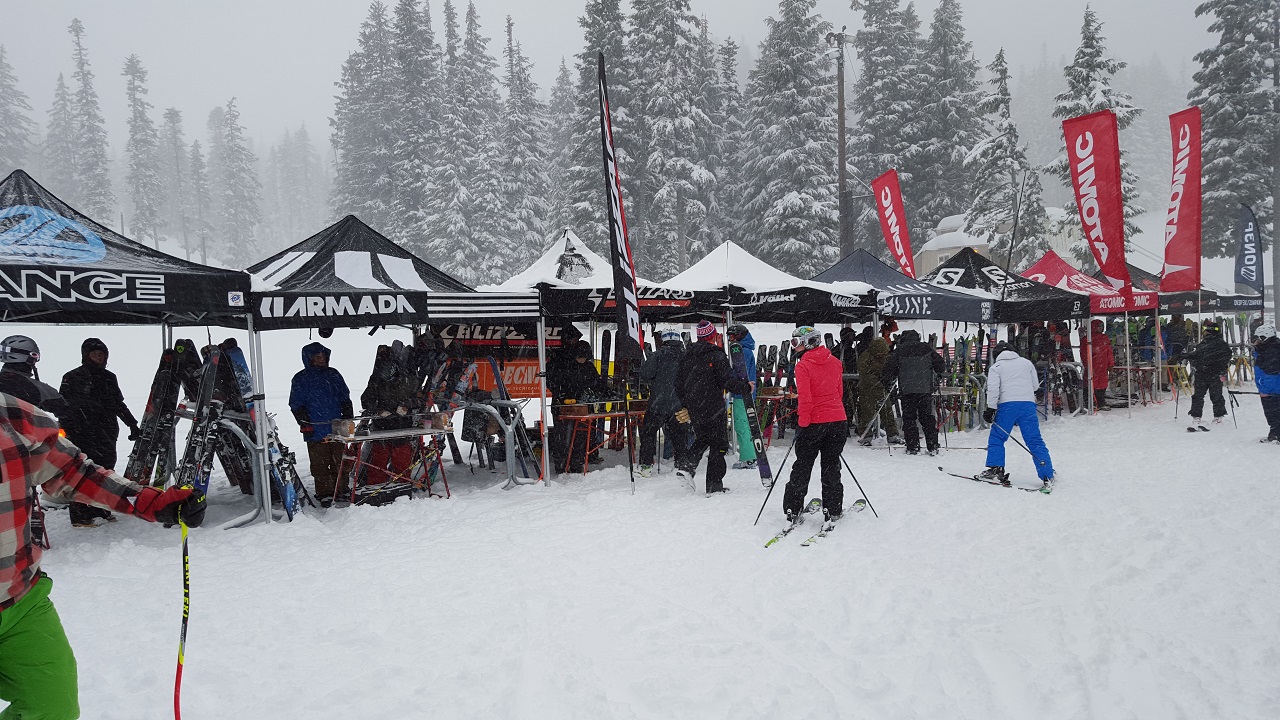 Here is the Tent City of Vendors.  You just fill out a card with you height, weight, boot size and ability and you give the card to the vendors in exchange for a pair of skis.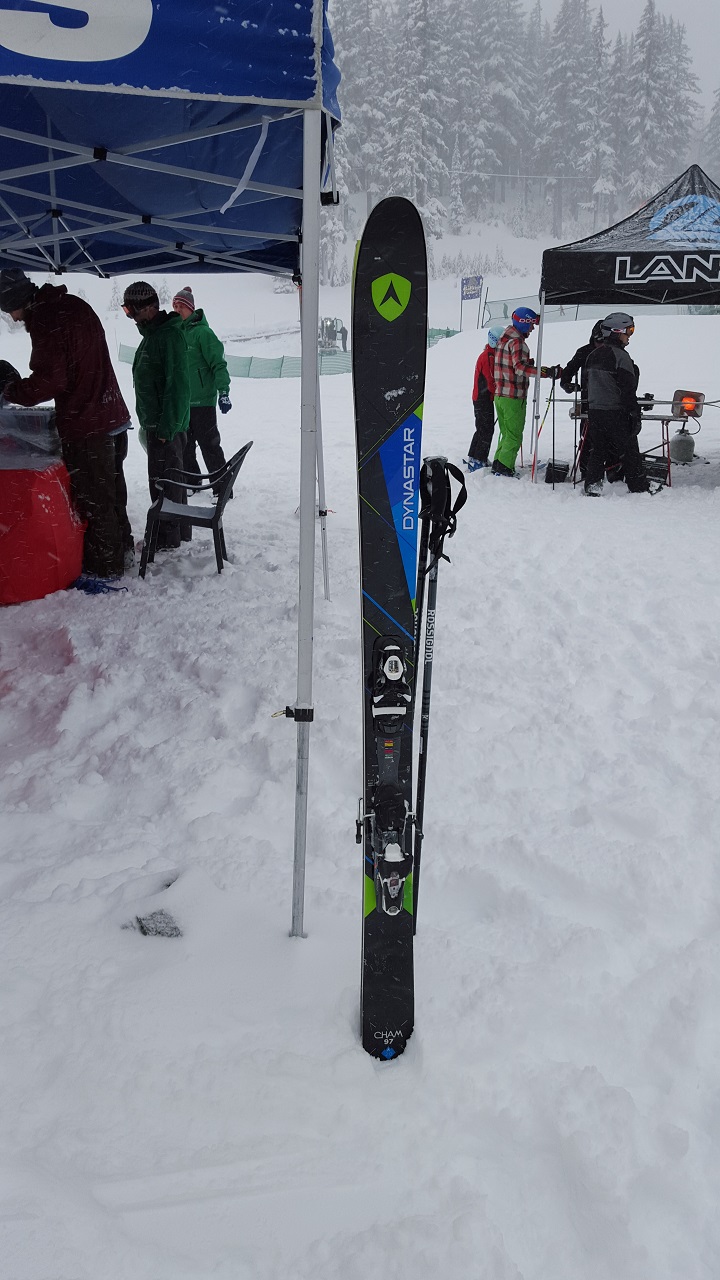 I really liked these skis.
The Blues Festival
There are lots of things to do in Portland.  It is an exciting and vibrant city.  I will make periodic posts about fun things to do. Feel free to comment about things that you would like to add to this list.
The Portland Blues Festival is an annual tradition in Portland.  Thousands of people show up to this event to enjoy top blues performers from around the country.  It usually occurs around the 4th of July.  This year, the final day of the Blues Festival was on the 4th of July, but next year 2012 the Festival will begin on the 4th.  The event is sponsored by the Oregon Food Bank, and there is a $10 suggested donation and they also ask for 2 cans of food.  This year, the event raised over $700,000 and Tons of food for the sponsor.
I love the Blues festival.  It is great way to spend a hot, sunny summer day in Portland.  The views of the river are amazing, the music is to die for and it is a great place to hang out with friends.
Have fun!
The Portland Farmers Market is a Spring and Summer Saturday Tradition.  It is all about the food... fresh, local and often organic.  It is open from about 9am to 2pm.  It is located on the south park blocks close to PSU at SW Park and Montgomery.  I love to buy fresh veggies at this market, and I also recommend the Salmon stand and the exotic meats like elk and buffalo.  Today I had a cookie that was to die for.  Everybody loves the berries and cherries.  Sometimes there is live music, live poetry and other entertainment.  This is a fun place to go shopping.
Thanks,
I had my first taste of Kareoke with a band this week, aka Kareoke From Hell, and it was so much fun.  Every Thursday night at the Tiger Bar on SW Broadway at Everett there is a live band that allows members of the audience to step up and be their front man (or woman) for a song or two.  It makes you feel like a rock star.  The band has over 400 songs in their book and they have the words ready for you too. Don't forget to tip the band!  They rock.  They also play at Dantes on Mondays.
Sadly, I must report that the Tiger Bar Close its doors in January 2014, and now the only place in town (that I know of) to sing Kareoke with a live band is Dante's.  Their address is 350 W. Burnside, and you can show the world your skills on Mondays. Dantes's is a larger venue with a more experienced stable of Kareoke singers, so make sure you get some practice before stepping on the stage.
Thanks,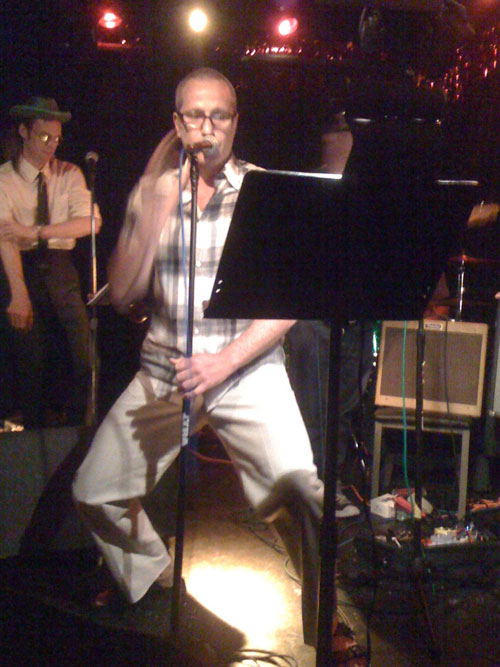 Rick Myers signs "Mama Tried" photo by Wade Nkrumah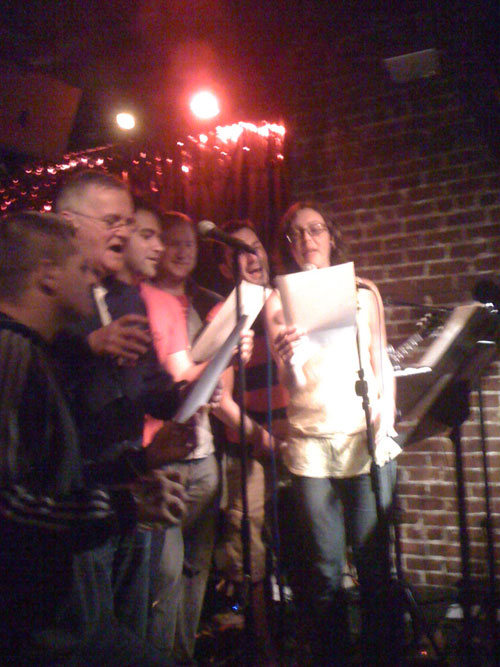 Bryce, David, Fuad, Michael, Nick and Maureen sing the "Birthday Song" at the Tiger Bar
Photo By Wade Nkrumah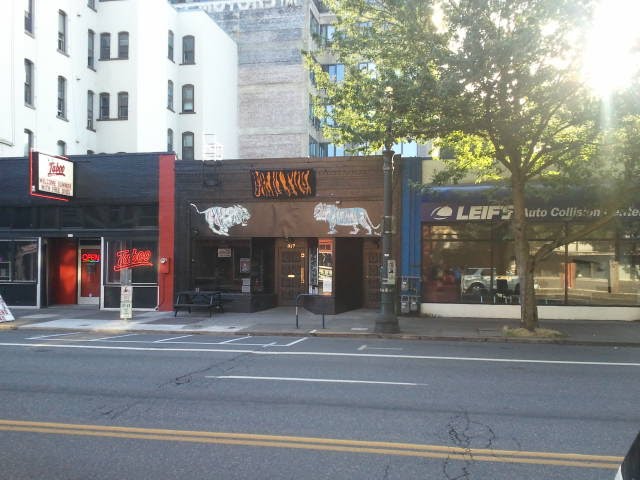 Tiger Bar on NW Broadway and Everett, Photo by Brian Porter
The mother of all street fairs in Portland is the Last Thursday of the month during the summer on Alberta Street. Actually I think the street fair extends into the spring and fall, but I was there yesterday (July 29th, 2011), and it was awesome.  There are street performers on every block, artists and artisans, musicians, food carts and of course all of the restaurants are open and many have sidewalk service.
They block off Alberta from about 20th to 30th streets, and the show begins at about 6pm.  It starts softly and quietly, but as the afternoon progresses the noise level increases and so do the crowds.  My personal favorite is the marching band with the performers on stilts.
Photos and article by Brian Porter
Celebrating PDX's summer arrival with Barbie and The Big Float
by Wade Nkrumah
Summer has arrived in Portland.
I know, because I'm hearing annual seasonal whining about how hot it is, with temperatures barely inching into the 80s.
Fortunately, there's enough fun on the horizon to drown the drone of the whine.
On the heels of last weekend's always-energizing PDX Pop Now! music festival, attention this weekend shifts to The Big Float, and to next week's First Thursday once-a-year happening at Everett Station Lofts & Galleries.
The Big Float will spotlight Willamette River as, oddly, an unlikely host. Odd, because the Willamette's large as life presence through the middle of the Rose City should make it a natural choice. Unlikely, because: Who wants to take a dip in the Willamette?
Well, some do – and have! – believe it or not, and first-ever staging Sunday of The Big Float aims to plant seeds of change in Portlanders' perception of the Willamette as too polluted for safe recreational activities.
The event is exactly what the name conjures: a sea of water enthusiasts taking to the Willamette in floating devices – inner tubes and rafts, for starters – and parading across, from the west side of Marquam Bridge to the river's east edge. For more go to www.thebigfloat.com
Claudia Porter, a longtime Everett Station associate, will bring to the courtyard for First Thursday an updated series of her whimsical, yet striking, Barbie digital prints. She first showcased Barbie in November at Everett Station's Nisus Gallery.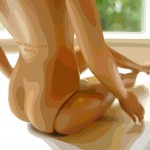 The community of artisans and artists at Everett Station and some of their friends, even, will be showing works for sale.First Thursday will offer its usual flights of fancy and social gazing.
 
For something different but still in the mix, make your way to the crossroads of Chinatown/Old Town and Pearl District. Everett Station Lofts & Galleries, at Northwest Everett Street and Broadway, will welcome the masses to its hidden-from-the-street courtyard. This occurs once yearly.
Yes, I know: the courtyard is outside and it's getting hot out there. Since summer's heat happened last weekend, the whining that's followed has been building toward a crescendo entering July's final weekend.
Yeah, that's right, it's the last weekend in July, already. Makes you wonder where the first part of summer has gone. Well, no where, really, considering summer is just starting, given beyond-lousy weather till now.
And with sunny skies and temperatures forecast for the 80s well into next week, there's no telling how high whimpering will register on the whining meter as August sets in.
Sure, there's no guaranteeing weather for The Big Float and First Thursday will be cool enough for the whiners. Still, the rest of us can join Barbie and take comfort in summer's arrival and the good vibes and fun the sun brings with it.
After all Portland, it's summer. It's supposed to be hot.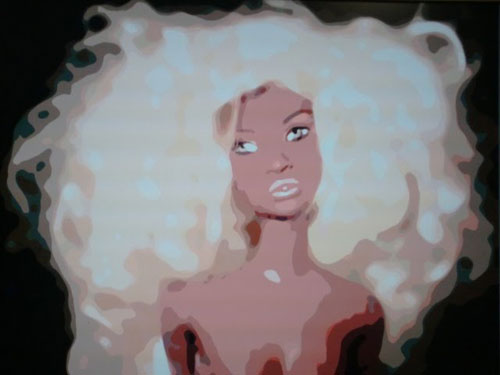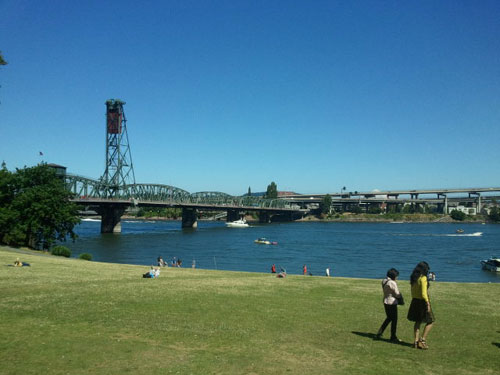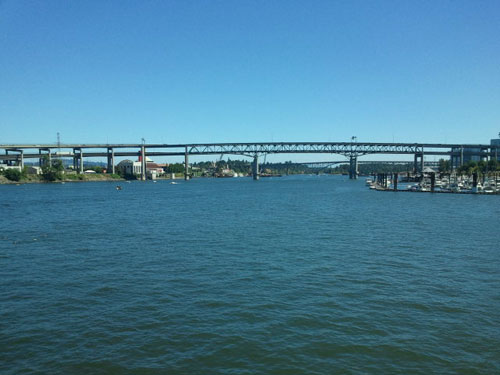 Photos by Brian Porter
Food cart clusters having their say as Portland's new sidewalk café
by Wake Nkrumah
Movie night at the food cart courtyard?
Uh-huh.
That's the word on the street in Sunnyside Neighborhood.
It happens in the 3400 block of Southeast Belmont.
The quaint courtyard has just enough real estate – a snug 33-foot curb front – for four in-operation carts and ample covered seating. There's also a portable toilet and automated teller machine.
The carts' cuisine: crepes and bubble tea, dumplings, Mexican, and Vietnamese sandwiches.
Movie showings are Friday and Saturday nights, of course.
And only in Portland, reigning food cart capital – yes, really! – of the universe.
Need further confirmation? Go to foodcartsportland.com
But really, it's all in the street cred.
You know Portland's standing is no joke once you realize the bento or burrito stand you patronized five years ago on a downtown corner since has joined clusters of more permanently anchored food carts sprouting citywide and giving birth to a new culinary aesthetic.
The carts' blossoming presence especially is welcome downtown – far too long a feast (pricey fine dining) or famine (cheap fast food chains) table setting of scarce middle ground for affordable tasty options.
The ubiquitous carts, from rickety to ramshackle, dot the city like so many hipsters showing as extras for a Portlandia audition.
In fact, a short time ago, Portland officially was deemed, by whoever deems such things, as having out-food carted Singapore. Who knew?
Overthrowing Singapore – apparently long recognized as the kingpin of food cart nation – is a good thing. And not merely because it gives our city something legitimate for which to be famous; as opposed to being infamous as destination-known outpost for scenesters and slackers.
It's a good thing because cart food is good and, in many cases, inexpensive.
'Nuff said.
Well, no.
The food cart scene still is a works in progress. Dessert options generally aren't an option. Neither, for the most part, is sitting while eating, due to limited or no seating at larger clusters.
But it's the hours of operation that most beguile. Even when posted – not a guarantee – hours can vary wildly from cart to cart, cluster to cluster.
In the case of cuisines at cart clusters, being all over the map is a good thing. But not so much with hours of operation, especially when you show midday during midweek to find shuttered your cart of choice for that day.
Sometimes, timing – and the whimsy of the cart's operator – is everything.
"Open for lunch,'' the sign says on a cart in the 400 block of Southwest Stark Street. Actually, no. Not this first Friday in August. Really? It's early afternoon.
In the haste to escape on this beautiful day, the cart's A-board sign is even left on a street corner halfway up the block. "Closed for filming,'' a note on the cart says.
Whatever.
Best to move on and set forth on your own to taste for yourself the riches of these food cart clusters:
"The Original," Southwest Oak/Stark Streets; 5th Avenue (central Downtown) – The first cart cluster dates to late in last decade of last century. Now 26 carts strong, this cluster workhorse is the mainstay for the downtown lunch crowd. My favorite: Bro-Dogs. Thanks to the cluster's prime location along the Green/Yellow Metropolitan Area Express light rail line, there's convenient sidewalk bench seating under a shady tree canopy.
Alder Street, Southwest Alder/Washington streets; 9th/10th/11th avenues (west end Downtown) – The Mother of clusters, with nearly 60 carts.
A La Carts Food Pavilion, Southeast Division Street and 50th Avenue (Mt. Tabor Neighborhood) – Homework assignment: go to alacartspdx.com
Cartopia, Southeast Hawthorne Boulevard and 12th Avenue (Buckman Neighborhood) – A lean cluster machine of six carts, plus amenities: two portable toilets, a sink and automated teller machine. I make my way to Potato Champion for poutine and gravy fries. Every time. It becomes a sit-down meal thanks to plentiful covered tables and benches. Still, finding sitting isn't always a given cuz this cluster is like the Homecoming King – popular.
D-street Noshery, 3221 Southeast Division Street (Richmond Neighborhood) – To check it out before trying it out, go to dstreetnoshery.com
Good Food Here, Southeast Belmont Street and 43rd Avenue (Sunnyside Neighborhood) – Your three daily square meals-plus await: All-day breakfast (Euro Trash), lunch salad (Crème de la Crème), dinner burger (Lardo), plus dessert (Sweet Pea's Brulee). Adequate seating, too. More at goodfoodherebelmont.com
Mississippi Marketplace, North Mississippi Avenue and Skidmore Street (Boise Neighborhood) – NoPo weighs in at thebigeggfoodcart.blogspot.com/; gardenstatecart.com; nativebowl.blogspot.com; sushitree.blogspot.com; therubydragonpdx.blogspot.com; foodcartsportland.com/2009/06/01/nuevo-mexico; foodcartsportland.com/2011/01/31/big-top-waffles; foodcartsportland.com/2009/10/25/dogfeathers-coffee-and-juice
Portland State University, Southwest College/Hall streets; 4th Avenue (south end Downtown) – University students and city workers eat and greet, mingle and mix at this cluster of 25 carts on the southeast edge of campus.
Refuel Station North, North Greeley Avenue and Killingsworth Street (Overlook Neighborhood). NoPo again. Offerings at this modest, yet fledgling, cluster include pizza, panini, Thai and more. Plus, heated indoor seating!
3rd Avenue, Southwest Stark/Washington streets; 3rd Avenue (central Downtown) – Hog Time (pork, baby!) in the 200 block of Washington is my go-back-to standard among the 22 carts. This cluster is more stop-n-go than sit-n-stay due to limited seating, though Hog Time is among a few with a bench or stools for two. Eat late into early-morning option: Sausage Shack, open til 2 a.m. six days a week.
| | |
| --- | --- |
| | |
|    | |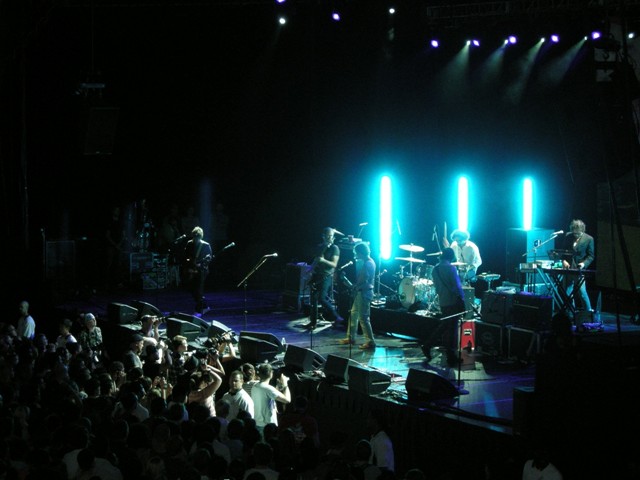 MusicfestNW: Summer's last blast of sun and song
Blog and Photos by Wade Nkrumah
The 90-degree heat under cloudless skies Tuesday hardly was the 'breather' I expected on the heels of Labor Day weekend at Bumbershoot in Seattle and the eve of Wednesday's kickoff to Musicfest NW in Portland.
But I'm certainly not complaining. In fact, I'm relishing this week's hot days, which will mean warm nights as I roam downtown streets, going venue to venue, during the music festival's (musicfestnw.com) five-day run through September 11.
Last weekend's return to Bumbershoot, after a six-year absence, was the perfect Musicfest NW primer. It was invigorating, too. This, despite as-expected throngs of people and long lines, such as the late-afternoon serpent-like mass of humanity snaking way north and then way, way east outside Key Arena (see photo) hours in advance of Sunday's filled-to-capacity Wiz Khalifa show.
Thankfully, such lines are highly unlikely at Musicfest NW. The festival is spread over nearly two dozen mostly central city sites, including small concert venues, bars, nightclubs and Pioneer Courthouse Square.
Bumbershoot, which rages in the shadow of the iconic Space Needle, is confined to the more intimate footprint of Seattle Center.
Even so, access into Key Arena was a breeze for the mid-afternoon Sunday performance of Broken Social Scene (see photo), which gave a crowd-pleasing and spirited show.
"Sorry about your basketball team,'' the band's leader said between songs. "I blame Ben Gibbard. Is that fair?''
The comment was an all-in-fun and respectful nod – jokingly at the expense of Death Cab for Cutie's leader – to the many in the audience and throughout Seattle Center sporting caps, jerseys and shirts in homage to the SuperSonics – the beloved and departed National Basketball Association squad now known as Oklahoma City Thunder.
Later, as the line for Wiz Khalifa grew with afternoon transitioning to evening, I settled for a dose of Tennis – the band, not the sport. The trio turned in a fine outdoor set on Fountain Lawn Stage (see photo).
I hope to catch them again – and you can, too – Saturday during Musicfest NW.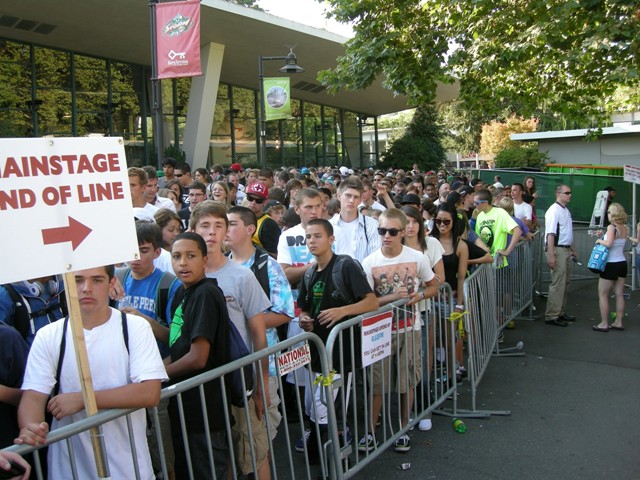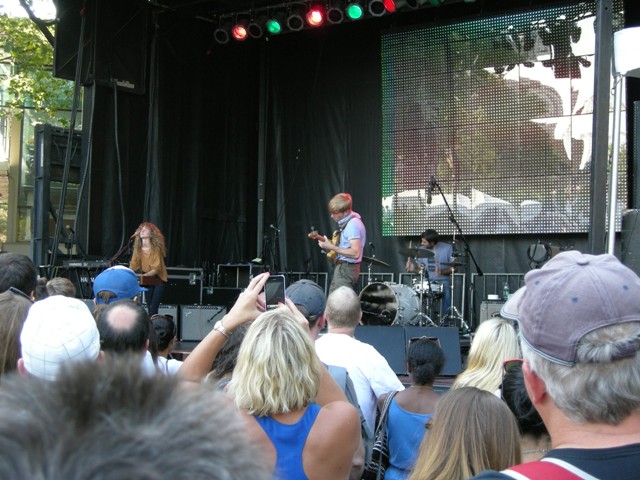 by Dayna Dague Morales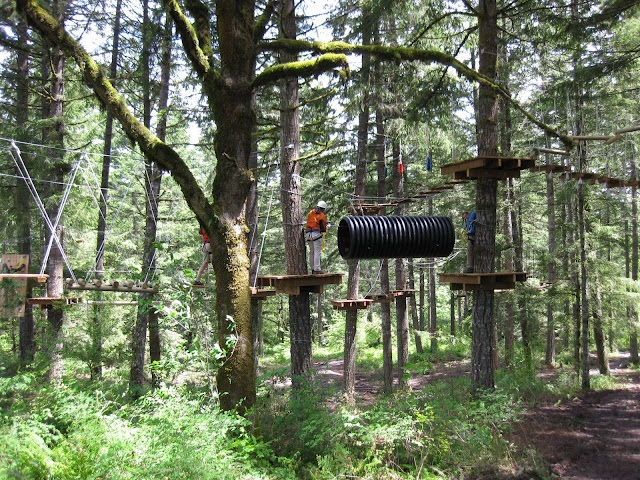 Tree to Tree Adventure is an aerial obstacle course.Sometimes an event is called family fun, but too often us big kids (parents) pay to watch our kids have fun. Guess what? Not this place! Pack the whole family and the dog too. We drove out of the city for about 20 minutes, traded freeway traffic for winding country roads, then 20 more minutes and SHABLAM we arrived!

We parked on the gravel road, opened the car door, and our dog (lucky) took off running toward open fields… nobody stopped her. Lucky was greeted by the local Tree to Tree dogs; they sniffed, circled and laid down the law for her, which must have been fine because off she ran with them. I glanced around expecting some sort of human regulatory restraint and breathed a sigh of relief when I realized there wasn't one.

Phew one down, three to go. My husband our daughter in her 20's and our eight year old still needed adventure. We heard an unexpected zip followed by a squeal of delight up in the trees; we took off running just like the dog. We were greeted by the local Tree to tree staff ; they informed, charged and got us geared up. We went to the kid's course first. Our eight year old is pretty daring but doing an obstacle course off the ground had her thinking twice. A very patient, enthusiastic guide explained each detail. Our daughter's legs were shaking the first time through; that is, until she completed the first zip line. She looked at us from the opposite side eyes sparkling and yelled, I want to do it again!

Tween and adult courses are higher off the ground and more demanding. Anyone who likes hiking, climbing, sports and adrenaline surges this is for you. The entire family is in the same area on different courses. It is a great adventure when each person participates in the same event and responds to it in a completely different way. You will be challenged mentally, physically, and emotionally. This is a terrific way to build self esteem, strength, problem solving and creative option skills. Oregon is known for its beauty. We have a plethora of tree species and this is just another way to celebrate them. Grab your family, friends, co-workers, special some-bodies, and get out here.
Oh and don't forget the dog!
www.youtube.com/watch?v=_8rBIbZrx-w&feature=youtube_gdata_player

2975 SW Nelson Road Gaston, Oregon 97119 503-357-0109 Call for reservations
The photo above comes from the tree to tree website: www.treetotreeadventurepark.com
Once a year, all are welcome (inside) here
by Wade Nkrumah
O.K. They did it.
Props to Everett Station Lofts & Galleries.
The artists and artisans at the live/work collective in Chinatown/Old Town did what they rarely do – they opened their inner sanctum to the masses.
So it was August 4, when Everett Station invited the First Thursday throngs into its courtyards to view – and buy – art.
Of course, the occasion – as are many at Everett Station – was another excuse to eat, drink, meet, greet, mingle, mix and be merry.
Allowing the public into the courtyard happens once a year. So, if you were there, you're glad you were. If you weren't there, well … next year.
You knew it was coming. Last week, at this very web site, you were tipped off in this very blog space to the very special once yearly First Thursday happening at Everett Station.
The art. The food and drink (Thank-you Rick Myers and Company Tonight). Big art. The DJ. Small art. The Film Crew. Smart art. The people galore.
So, yes, they did it. And you were – or should have been – there.
Hip to be Square in Portland's Living Room
by Wade Nkrumah, Photos by Claudia Porter
Summer has taken hold of Portland, for sure.
The proof is the abundance of outdoor options for eating, greeting, meeting.
Finding your spot in the sun is as easy as making your way downtown to the city's Living Room, Pioneer Courthouse Square.
Most everyday through summer's end and just beyond in September, you can enjoy a combination of or either the sights (a movie), sounds (music), tastes (food) of the city. All are part of "Summer at The Square'' (pioneercourthousesquare.org).
For a sneak peak, check out the accompanying pictures by local artist Claudia Porter.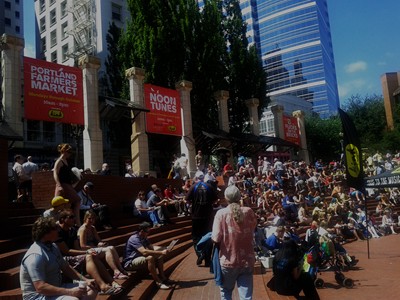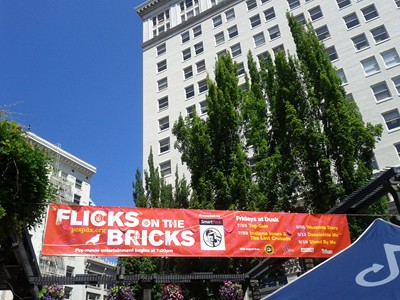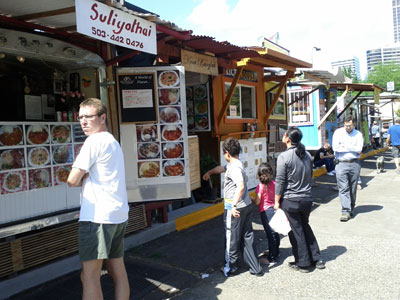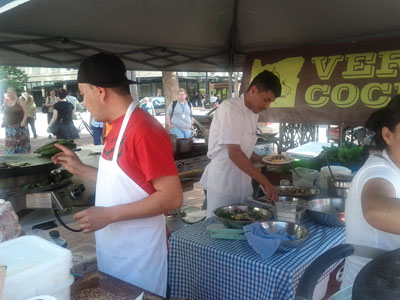 Next, make your move by experiencing:
• Noon Tunes concerts 12-1 p.m. each Tuesday and Thursday this month;
• Flicks on the Bricks movie Friday, August 19.
Hungry, too? No worries; there's plenty of food offerings.
Portland Farmers Market operates in the Square 10 a.m. to 2 p.m. every Monday this month. Other days, there's often event-associated food carts or stands.
In addition, there's the Square's permanent, year-round staple of food carts, and a coffee shop that's open during the day and well into evening. And, of course, there's lots of seating and room to roam in the Square. It's best to bring cash for the food carts.
So, there you have it: Sunny summer weather. Food. Movies. Music. A place to sit. Space to spread out. All downtown in Portland's Living Room.
Now you're more than ready to take hold of summer in the city.